2014 German Dressage Championships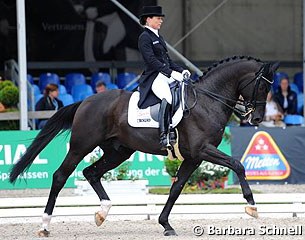 In the absence of Germany's number one duo Helen Langehanenberg and Damon Hill, the 2012 team Olympian Kristina Sprehe and her black licensed Hanoverian stallion Desperados had a clean sweep at the 2014 German Dressage Championships in Balve, Germany, on 16 - 18 May 2014. The pair won all three rounds, the Grand Prix, Special and Kur, and claimed two National Titles that weekend.
As in most countries scores get quite inflated at National Dressage Championships and it was no different in Germany, where Sprehe won double gold with an 83.784% in the Special and 90.150% in the Kur to Music. Notwithstanding these huge marks, Sprehe and her 13-year old stallion was clearly best in show in Balve. She also premiered her new kur to music with on a violin composition arranged by Ralf Roder, who also once designed the freestyle of Desperados' sire Donnerhall.
The 27-year old Sprehe was overjoyed with her victories. "In fact I'm speachless," Kristina stated after winning Kur gold. "We still have to work a bit on the fine-tuning of the music and movements." Sprehe is currently training with German team coach Monica Theodorescu and will show Desperados next at the German WEG trial in Perl-Borg in June.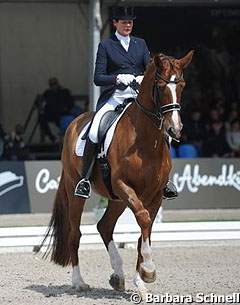 Grand Prix Special silver went to Ulla Salzgeber and her Rhinelander gelding Herzruf's Erbe (by Herzruf). The pair scored 77.627% and just stayed a fraction ahead of Fabienne Lutkemeier who got bronze for her 77.373% earning ride on the Hanoverian gelding D'Agostino (by De Niro x Shogun xx). Ulla's horse, which has been struggling in the past with niggling health issues, will have to prove consistent fitness of her horse in order to be considered for the German WEG team.
"It was the best decision ever that I took in September é2011 to put Herzruf's Erbe nine months in the field," said the 55-year old Salzgeber, who is relieved that her horse showed great form in Balve. Lutkemeier dealt with a quite tense D'Agostino in Balve. In the Special she kept her spooky horse under control and was able to win a medal, in the Kur the 24-year old had major problems and dropped to a 9th place with 75.425%.
So what about German anchor and "mutti of the team", Isabell Werth?  She was fourth in the Special on Don Johnson (by Don Frederico x Warkant) as there was an issue in the transition in piaffe. Werth's 12-year old refused and hobbled on the spot.  "I failed in the transition as he wanted to do a strike off to canter," Werth explained. "He's a very clever, witty and intelligent horse. I'm annoyed with myself." Werth, however, is a master at kur riding and is not scared of taking major risks. In the freestyle, she earned kur silver with a big 86.625% score. "That was in the bag," the 44-year old Werth commented after the kur. "It would be nice if I can continue like that internationally."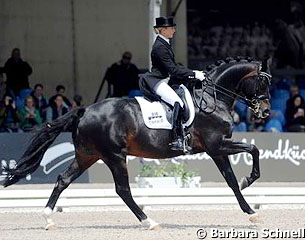 Kur bronze went to German shooting star Jessica von Bredow-Werndl on Swiss judge Beatrice Burchler-Keller's Dutch stallion Unee BB (by Gribaldi). The pair achieved 83.65% to finished third with a personal best score.  "First the canter tour was brilliant in the Grand Prix, then the trot tour in the Special and in the kur both came together," the 28-year old Werndl explained.
Balve also staged a Nurnberger Burgpokal qualifier for Developing Prix St Georges horses and a Piaff Forderpreis qualifier for Under 25 Grand Prix riders. Both classes were won by German young rider team member Charlott Maria Schurmann. Aboard the Hanoverian licensed stallion Edward (by Embassy) she won the Prix St Georges Special with 75.829% and aboard her own Burlington (by Breitling x Rohdiamant)  she aced the Short Grand Prix with 74.651%.
Text by Astrid Appels - Photos © Barbara Schnell
Related Links
Scores 2014 German Dressage Championships
Langehanenberg and Damon Hill Receive a Bye for 2014 German Championships
Helen Langehanenberg is First Violin at 2013 German Dressage Championships
Helen Langehanenberg Crowned Queen of Dressage at 2012 German Championships
Rath Secures National Title with Totilas at 2011 German Championships in Balve
Balve to Host German Dressage Championships until 2016