Swiss Dressage News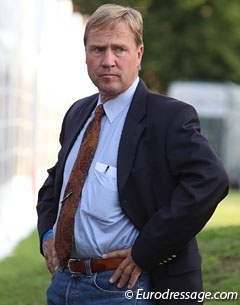 Swiss Grand Prix chef d'equipe Jean Michel D'Arcis and Swiss sport chef Christian Pläge have both resigned from their position with the Swiss Equestrian Federation this week.
D'Arcis sent an email to all elite squad members in which he announced his sudden resignation. He stated that "profound differences in opinion" with the Swiss federation's head of the disciplines, Martin Walther, is the cause for his departure. Pläge has not provided a reason for his resignation.
Swiss equestrian publication Pferdonline contacted Walther for a reaction, but he refused to comment. "I cannot comment on both resignations. Please understand this," he said.
The cause for the acute resignation of two major dressage officials involves the planning for the World Equestrian Games in Normandy and starting spots at the CDIO Aachen. As Switzerland is partner country of Aachen this year, it received an invitation to compete there three weeks ago. Three to four starting places were available, but the Swiss federation decided to send only their top rider Marcela Krinke-Susmelj.
This is not the first time that the Swiss federation has not been supporting a team of riders but preferring individual instead. See the related links below.
The Swiss elite squad has thirteen riders in total.
Photo © Astrid Appels
Related Links
Swiss Dressage Teams for 2014 Announced
Swiss Equestrian Federation Votes on New Dressage Staff
Open Letter from Former Olympic Riders on the Swiss Olympic Upheaval
Swiss Dressage Team Withdraws from Competing at the 2008 Olympics
Jurgen Koschel Resigns as Swiss Dressage Team Trainer