Finnish Dressage News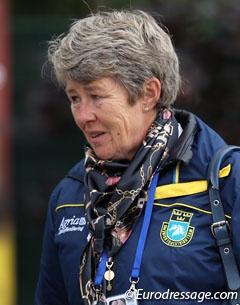 Renowned Finnish dressage trainer and multiple Olympian Kyra Kyrklund has been diagnosed with breast cancer and has started chemotherapy at the Royal Marsden Hospital after a lumpectomy one month ago.
"At first we hoped I only needed radiation therapy after the surgery, but unfortunately it turned out I needed to start with chemo therapy," Kyrklund told Eurodressage. "The good thing is they only took the tumour and healthy tissue around, the lymphnodes were clear. The bad news was that I require chemotherapy."
The 62-year old Kyrklund, who is a long time smoker, admitted that the diagnoses was a shock as there is no history of breast cancer in her family. "I never thought it would happen to me. It gave me a BIG half halt and made me think what I really want to do and of course what I will manage to do in the near future.
Kyra underwent her first round of chemotherapy on 12 May 2014. She has drastically reduced her work schedule, training students and riding horses home. "I was back in the saddle this morning for the first time in a month," she said. "Max behaved (as always) but to be honest I did feel a bit wobbly."
Kyra confessed to Eurodressage that "it's nothing I had in my calender for the coming year but that's life. My doctor is convinced I will recover completely but the coming 12 months will be tough," she confessed to Eurodressage.
Kyra added that she is coping mentally with it and joked she has already seen enough hospitals.
"My advise to all of you: go for your mammograms, mine was detected on a routine appointment. The sooner it is found the better chance you have. It is scary but you just have to "grab the bull by the horns" and try to stay positive!"
Photo © Astrid Appels
Related Links
Agreement Reached Between IDRC and FEI, Kyrklund Appointed Dressage Committee Athletes' Rep
IDRC President Kyra Kyrklund Issues Statement on IDRC-FEI Feud
Kyra Kyrklund, New IDRC President
Kyrklund to Boost Swedish Dressage with Her Expertise
Kyra Kyrklund's Max Retired from Competition
Kyra Kyrklund Celebrates 60th Birthday