2014 World Championships for Young Dressage Horses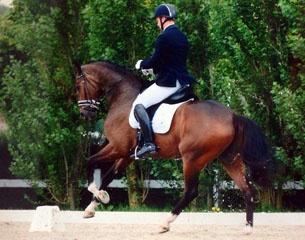 The 5-year old El Capone and the 6-year old Seymour were the winners of the third Belgian team selection trial for the 2014 World Young Horse Championships, held at the national show in Schilde, Belgium, on 10 - 11 May 2014. The event was rain filled and the footing reasonably happy but a lot of riders showed up nonetheless.
After three qualifiers a consistent group of top three combinations seems to have formed in the 5-year old division. After winning the Moorsele qualifier, Tom Heylen and El Capone (by Tuschinski x Camus) also aced the Schilde qualifier with 85.6 points. Dominique Mohimont and her winning horse at the first trial in Zandhoven, El Corona Texel (by Wynton x Goodtimes) were good for a second place with 83.8 points. Leopold Engelen and Earl Scandic (by Scandic) were third for the the third time, now with 83.20 points.
The Dutch rider Rob van Puijenbroek, who owns the breeding station Begijnhoeve in Retie, Belgium, won the 6-year old division aboard the Oldenburg bred Seymour (by San Amour x Friedensfurst). The pair scored 84.00 and placed well ahead of Nick van Laer on the KWPN mare Dolores van de Kwikaard (by Zucchero x Royal Dance x Sion), who were second with 81.20 points. Bjorn Villeyn and Feel Good  (by Furst Piccolo x Royal Diamond) were new comers up on the board, finishing third with 78.6 points.
In the 4-year old division, which is not part of the WCYH selection trial, Dutch Veronique Swagemaekers and the Oldenburg stallion Sixth Sense (by Sir Donnerhall I x Florencio) won the class with 82.80 points, just a fraction ahead of Anemone Clermont on Future's Pride (by Vivaldi x Metall) with 82.20. Kara Bosman and the Belgian warmblood mare Katharina (by Florestan x Rubinstein) completed the top three with 81.20 points. 
Results - 2014 CDN Schilde
4-year olds
1. Swagemakers Veronique - Sixth Sense  -  82,800
2. Clermont Anemone - Future'S Pride -  82,200 
3. Bosman Kara  -  katharina -  81,200 
4. Dossin Julie -  First lady  - 78,600 
5. Dieusaert Arthur -  Fleurie II -  74,800  
6. Vanpottalsberghe Maya -  Berreaux   -  73,600
7. Van Hoey Wim -  Figo  - 73,400 
8. Goldsmith Stephanie -  Sir Highlan  -   73,200
9. Cool Isabel -Faithfull  -  72,200   
10. Vandenbroucke Stephanie - Bridget Jones Lzg -  72,000  
11. Swagemakers Veronique -  Shamrock -  71,800   
12. Verguts Anneleen - Stedifee H Z -   70,200  
13. Vermeire Pieter -  showdancer  -   67,200 
14. Debie Kaatje -  Rozzana vd Wateringhoeve -  67,000  
14. De Jong Priscilla - Focus  - 67,000 
16. Smets Katia -  Floyd D.e. -  65,600  
17. Marchant Julie -  Flash - 63,000
18. Horsting Toby -  Ezumba Van De Kempenhoeve - 60,400
5-year olds
1. Heylen Tom -  El Capone  - 85,600  
2. Mohimont Dominique -  El Corona Texel - 83,800
3. Engelen Leopold - Earl Scandic -   83,200
4. Van der Leest Gigi -  Evita B -   79,200  
5. Heylen Tom - Jar of Ballmore -  78,800
6. Schuurmans Cindy -  Sambuca Tategoi  -   77,400
7. Van Laer Nick  - evento d -   77,000
8. De Vlieger Andre -   Escado -   76,600   
9. Verreet Katrien -  Quorum Y - 76,200   
9. Vermeire Pieter -  Ewald  -  76,200 
11. Van Laer Nick -  Just A Little Bit Krack V/h Klaverhof -   75,200  
12. Masselus Barbara -  Jersey Girl - 74,800
13. Hegemann Hannelore  -  Dolce 'N' -  74,200 
14. Hegemann Hannelore  -  Diandra 'N'  -  71,800 
14. Meisch Linda -  Jane Toja -  71,800 
16. Schlack Gudrun - QC Don't Worry Be Happy -  71,600
16. Tonnaer Jacqueline -  Evita -   71,600
18. De Keyser Heidi -  Jebe van het Keysersbos - 71,400 
19. Maertens Kimberley -  El Frederico Van't Stal Poseidon -    71,200 
20. Van Bambost Steve -  Eto O - 70,800  
21. Van Vugt Sofie -  Elista Obertje -   70,200
21. Van Vugt Sofie -  Ravanti C -   70,200
23. Timmermans Anoushka  - So Speciale Edition -  70,000
24. Hesters Steffi  -  Emporio SH -  69,200 
25. De Jong Priscilla -  Electra Ddj -  68,600  
26. Basten Wendy -  Don Fascination -  66,800 
27. Cools Ellen - Samurai Van Hof Ter Cools - 66,600 
28. Jongedijk Marije -  Elvis Presley -  65,600 
29. Hassani Naoufal -  Ariane's Quazotti - 62,600   
6-year olds
1. Van Puyenbroek Rob -  Begijnhoeves Seymour  -  84,000
2. Van Laer Nick -   Dolores van de Kwikaard  -    81,200
3. Vileyn Bjorn  -  Feel Good  -  78,600
4. Vileyn Bjorn  - Ile D\'Amour v/d Kiekenhoef  -  77,800  
5. Vanderbeeken Laurens - All Inclusive -  77,000  
6. Baptista de Almeida Antonio -  Dayfony SMH  -  76,000
7. Borrey De Coninck Eline    Davinci -  75,600
8. Cuypers Carl - Bilan -   73,600
9. Van Oekel Daphne -  Faraon Alegria  -  72,600  
10. Peeters Nicky  - Condiblesse v/d Kempenhoeve  -   69,200 
11. Borghys Maarten  - Dalia Van Hazenhoek -  63,800 
12. De Cock Isabelle  -  Dinka  -   62,700
13. Dieleman Astrid -  QC Loverano -   61,400  
14. Borghys Maarten - Isaura Ter Dolen -   59,800
Related Links
El Capone and Bilan Win Second Belgian WCYH Trial at 2014 CDN Moorsele
El Corona Texel and All Inclusive Win First Belgian WCYH Trial at 2014 CDN Zandhoven