Westfalian Breeding News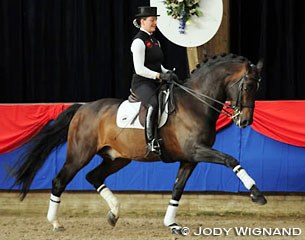 The 22-year old Westfalian licensed stallion Rubiquil has been euthanized in Norway last week following a fracture. The bay stallion has been spending his retirement from sport at Nina Karstensen's stallion station in Norway since the spring of 2012.
"We're not sure how it happened," Norwegian stud owner Nina Karstensen told Eurodressage. "He was normal in the evening when we fed him but the next morning he was lame behind. It got worse throughout the weekend and the vet diagnosed a fracture of the hip."
Bred by Leunis van Lieren and his late wife Mieke in The Netherlands, Rubiquil was by Rubinstein I out of Aquila (by Roemer x Homerus). Impressed by the stallion Rubinstein, Leunis took his mare Aquila to Westfalia to have her papered there in order to be allowed to breed to Rubinstein at the time.
Rubiquil became first licensed with the Westfalian society and in 1999 from the NRPS society. Only in 2002 when Rubiquil was showing the Grand Prix work did the KWPN society accept him as a stallion after a short performance test.
"When I backed him as a young horse, I just could not get over it," Leunis said about Rubiquil in an interview with De Paardenkrant. "Everything was just so easy, I'd never experienced such a thing and I said immediately: 'I don't want just one, I want a whole herd."
Leunis first competed the young stallion and later one his son Laurens van Lieren took over the ride with success. A 16-year old Laurens won the Third level Dutch championship on the 6-year old Rubiquil at the time. At age 9 Rubiquil was competed at Grand Prix level by Leunis.
Laurens climbed back in the saddle in 1998 and won the ZZ-Licht Dutch Championships. In 1999 the pair was member of the Dutch Junior Riders team and won team silver. In 2000 they won team gold at the European Young Riders Championships. In 2002 they returned on the Young Riders' team and won team silver at the European Championships.
Rubiquil sired two licensed offspring, including the NRPS approved Radetzky (by Rubiquil x Ravel) and the SBS approved Avanti (by Rubiquil x Jetset D).
Rubiquil's most successful offspring was Hexagon's Ollright. Under Laurens van Lieren the tall chestnut gelding was member of the silver medal winning Dutch team at the 2005 European Championships and 2006 World Equestrian Games and team gold at the 2007 European Championships. Further FEI offspring include Grand Prix level trained horses Truman, Truppa, Roumanda and Whoopy.
"We were so lucky to have Rubiquil two years in Norway and so thankful to Van Lieren for letting us have him," said Karstensen. "Rubiquil was a great personality and
a very amazing horse. There were never any problems with him and he was incredibly easy to handle.  I also think he was one of the best
dressage stallions we have ever had in Norway with such good results in
sport and breeding. We look forward to following his offspring in the
future"
Photo © Jody Wignand
Related Links
What's Happening: April 2012 - Part 2
Gold for Holland and Christine von Oldershausen at 2000 European Young Riders Championships
Hexagons Ollright Sold to England
Hexagon's Fusion Sold to Haras de Hus
Dinja van Liere Makes an Impression in Under 25 Classes at 2013 CDI Roosendaal