2014 CDI-W Toronto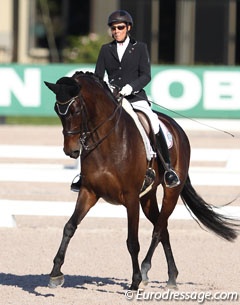 The annual CDI-W Spring Into Dressage competition held near Toronto, Canada, will act as the official test event for the 2015 Pan American Games, from 6 - 8 June 2014 at the Caledon Pan Am Equestrian Park in Palgrave, ON. With next year's Pan American Games in Toronto just over a year away, CDI-W offers an incredible opportunity for potential competitors to experience the newly re-built Caledon Pan Am Equestrian Park.
Several of Canada's biggest names in dressage have already confirmed their participation, including Christilot Boylen, who claimed the individual gold medal at the 1971, 1975 and 1987 Pan American Games. Based in Germany, Boylen has not competed on Canadian soil for more than 25 years, making the CDI-W a homecoming for the six-time Olympian.
1988 Olympic team bronze medalist Ashley Holzer has also declared, as have fellow Canadian Olympians Jacqueline Brooks, David Marcus and Belinda Trussell. Further Canadian entries include Diane Creech, Jill Irving, and Simone Williams, while competitors from the United States, Bermuda and Brazil are also taking advantage of the opportunity to compete there.
A total of $17,000 in prize money will be offered in the CDI-W Grand Prix division alone, thanks to the generous sponsorship of Deborah Kinzinger's Butternut Ridge. The top eight riders will also select a special prize of their choice following both the Grand Prix Special and Grand Prix Freestyle. As a World Cup qualifying event, the CDI-W allows riders to gain points towards the 2015 World Cup Final in Las Vegas, as well as qualifying scores for the upcoming 2014 World Equestrian Games in Normandy, France, this August. In addition, scores earned are eligible towards a 2015 Pan American Games certificate of capability.
FEI-sanctioned classes for Young Horse, Junior, Young Rider, and Small Tour will also be offered alongside an Equine Canada-sanctioned Gold National show, which offers divisions from walk/trot all the way up to the Olympic level of grand prix.
"This year's CDI-W event presents an amazing opportunity for us to welcome international competitors with an eye towards next year's Pan American Games. Riders are able to preview the site, including the new grand prix arena, while also experiencing top competition. This is our dress rehearsal for next year's Pan Am Games, and we are ready to host a world-class event," said the show management.
In preparation for the 2015 Pan American Games, the Caledon Pan Am Equestrian Park has undergone an expansive transformation. Most notably, a new grand prix arena has been constructed featuring free-draining sand/fiber footing. A brand new pavilion has been built, as have several other key features that will enhance the comfort of both horse and rider.
Photo © Astrid Appels
Related Links
Toronto 2015 Pan Am Games Recruiting for Equestrian Organizing Committee Chair
Caledon Equestrian Park Named Host Venue for 2015 Pan American Games
Pan American Games Return to Canada in 2015