Australian Dressage News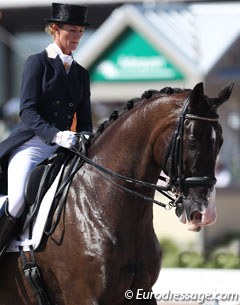 Australian pair Kelly Layne and her Dutch warmblood gelding Udon P are out of WEG contention for an Australian team spot after Layne's horse was diagnosed and treated for cardiac arrhythmia.
The 38-year old Layne noticed that something was wrong with Udon P (by Hierarch x Uniform) when he developed condition problems in canter, coughing hard and once bleeding from the nose. He was initially treated to his respiratory tract but when his form didn't improve, further inspection by Dr. Meg Miller-Turpin brought to light that the horse had an irregular heart rhythm.
Based at the Palm Beach Equine sports complex in Wellington, Florida, Layne shipped her bay gelding Udon to the University of Florida's College of Veterinary Medicine in Gainesville, FL, where his heart rhythm was converted on Wednesday 7 May 2014. He was already able to leave the clinic one day later.
"He is currently hand walking and does not appear to have any side effects from the procedure or anesthesia," Layne told Eurodressage. "His heart is beating in normal sinus rhythm. The day after the procedure he was very bright eyed and moving around his stable, he was ready to go home (a 5 hour drive) and see his BFF."
Dr Miller will re-inspect Udon P in two weeks before he will be started back under saddle.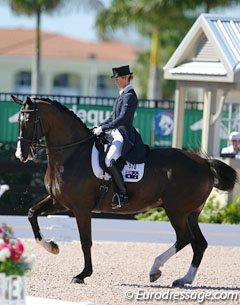 "He will walk and trot for two weeks and we will then re-check him before he starts canter," said Layne. "If this all goes well we will slowly build him up to normal work over the next month. We will be using a heart monitor to help assess what exercises place the most stress on the heart. The scary thing is that we don't know why this happened so all we can do is proceed cautiously."
In June 2013 Adelinde Cornelissen's top horse Parzival was diagnosed and treated for the identical condition. Two and a half month later he won double individual bronze at the 2013 European Championships in Herning.
Layne was a member of the Australian team at the 2006 World Equestrian Games in Aachen and had her sights set on the WEG in Normandy this year. She was strongly in the running for a team spot after scoring 69.240% at the CDI Wellington. The pair had planned on traveling to Europe for the Australian WEG Selection Trials there.
While dropping out is a major set back, her horse's health is main priority. "Udon is a great horse and I strongly believe we haven't had our last dance yet," Kelly added.
Photos © Astrid Appels
Related Links
Eurodressage Photo Database: Kelly Layne
Australian Elite and National Squads for 2014 Announced
Australian Team for 2014 CDIO Wellington Announced
Australian Kelly Layne Makes her Mark at Gold Coast Finale in Florida
Lars Petersen and Katherine Bateson-Chandler Win Grand Prix Classes at 2014 CDI Wellington