2014 Bundeschampionate Qualifier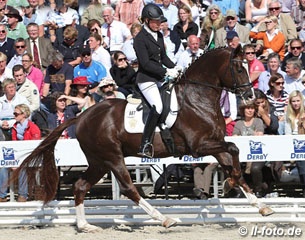 The 5-year old Escolar and Quotenkonig and the 6-year old Steppo were the winners of the two Bundeschampionate qualification classes held at the regional show in Coesfeld-Lette on Friday 9 May 2014. No less then 32 combinations contested the 5-year old L-level division and the class was divided into two groups.
Hubertus Schmidt topped the leader board in group 1 with the Westfalian licensed stallion Escolar (by Estobar x Furst Piccolo), scoring 8.6. Christina Uffing and the Rhinelander mare La Vie (by Lord Loxley x Gamblers Star) were the runners up with 8.3. Matthias Bouten and the Oldenburg gelding Quentin FH (by Quaterback  x Sandro Hit) slotted in third with 8.0, tying with her second ride Caraleiga FH (by Carabas x Breitling) which also scored 8.0.
In the second group Lisa Neukäter surfaced at the top of the ranking aboard her Westfalian licensed stallion Quotenkonig (by Quaterback x Furst Piccolo) on 8.4. Yvonne Reiser and the Oldenburg gelding Sunlight (by Sungold x Licotus) were second with 8.2, tying with Jana Freund on the Hanoverian stallion Bodyguard (by Burlington x Pik L).
Annemarie Finger and her Westfalian stallion Steppo (by Spielberg x Hohenstein) aced the M-level dressage horse test for 6-year olds with a strong score of 8.8. Finger had Anja Wilimzig and the Oldenburg stallion Sir Heinrich (by Sir Donnerhall I x Furst Heinrich) on her heels as Wilimzig slotted in second with 8.7. Portuguese Antonio Teixeira do Vale and the stallion Bailarino (by Breitling W x De Niro) finished third with 8.2.
Photo © LL-foto
Results - 2014 Bundeschampionate Qualifier - Coesfeld
5-year olds - Group 1
1. Hubertus Schmidt  - Escolar(by Estobar x Fürst Piccolo) - 8.6
2. Christina Ueffing - La Vie (by Lord Loxley I x Gamblers Star) - 8.3
3. Matthias Bouten - Quentin FH (by Quaterback x Sandro Hit) -  8
3. Matthias Bouten - Caraleifa FH  (by Carabas x Breitling W) -  8
5. Ann-Christin Wienkamp- She's the one(by Schumacher x Florestan) - 7.8
5. Wibke Hartmann-Stommel  -  San Cherie V(by San Amour x Mon Cheri) -  7.8
5. Ann-Christin Wienkamp - Samoura M  (by San Amour x Ferragamo) - 7.8
5. Claudia Rüscher - Belconi (by Belissimo M x Rubin-Royal) - 7.8
5-year olds - Group 2
1. Lisa Neukäter -  Quotenkönig (by Quaterback x  Fürst Piccolo) -    8.4
2. Yvonne Reiser - Sunlight (by Sungold x Licotus ) -  8.2
2. Jana Freund - Bodyguard (by Burlington x Pik L) -    8.2
4. Magnus Mittelviefhaus - Boujour Lieberty (by Beltoni x Donnerhall) -    7.9
4. Claudia Rüscher  - Ernesto  (by Ehrenwort x Florestan ) - 7.9
9. Anja Wilimzig -  Rational (by Rock Forever I x Bormio xx) -    7.7
9. Achim Ostermeyer - Barclay (by Benetton Dream x Fürst Piccolo) -    7.7 
9. Johanna Klippert - Fürst Nymphenburg II (by Florencio I x De Niro) -    7.7 
9. Ann-Christin Wienkamp -  Ray Dan (by Rockwell x Van the Man) -    7.7
13. Hermann Burger -  Doria (by Don Frederico x Rubin-Royal) -    7.6
14. Kira Wulferding - Saphira Royal NG (by San Amour x Monteverdi) -    7.5
14. Mareike Mimberg  -  Quatre-Pieds-Blancs(by Quaterback x World Cup I) -    7.5
16. Eva Möller -  Formula one (by For Compliment x Sandro Hit) -    7.4
17. Karin Schulze Topphoff  -   Dream of Tomason   (by Diamond Hit x Lauries Crusador xx) -    7.2
17. Sabine Egbers -  Fiderprinz (by Fidertanz x Prinz Oldenburg) -    7.2
19. Kathrin Kohne - Secret Sunshine   (by Stedinger x Don Vino) -    7
20. Sabine Egbers -  Darlene (by De Niro x Graf Lehnsherr) -    6.9
20. Mareike Mimberg  - Scavi Noir (by Sir Donnerhall I x Fidermark) -    6.9
20. Frank Bogenschütz  - Sunshine  (by Sandro Hit x Feuerschein) -  6.9
23. Frank Bogenschütz - Quatergirl (by Quaterbackx Fidermark) -    6.8
24. Heike Osterkamp - Firefox O (by Fidertanz x Donnerhall) -    6.7
 Frank Mohr -  Federleicht (by Fidertanz x Riccione) - RET
 Erik Bültjer -  Supreme  (by San Amour x Diamond Hit) - RET
 Yvonne Reiser - Bellini Gold (by Belissimo M x De Niro) - RET
6-year olds
1. Annemarie Finger  - Steppo (by Spielberg x Hohenstein) - 8.8
2. Anja Wilimzig - Sir Heinrich OLD (by Sir Donnerhall I x Fürst Heinrich) - 8.7
3. Antonio Teixeira do Vale - Bailarino (by Breitling x De Niro) - 8.2
4. Jana Freund - Cassiopaya (by Cassini Boy Junior x Lanciano) -  7.8
5. Andrea Timpe - Linley B (by Lord Loxley I x Rockwell) -   7.7
5. Sonja Grunden  - Scarlett O'Hara (by Sandro Hit x  Donnerschlag) -   7.7
5. Annika Korte - Sydney HR (by San Remo x Levados) -  7.7
8. Heike Klapsing - Sanduro B (by Sir Donnerhall I x Rubinstein) -  7.5
9. Johanna Klippert - Hollister (by Hotline x Don Frederico) -  7.4 
9. Janine Ebben - Lord Lucky (by Lord Loxley I x Lancer II) -  7.4
11. Karin Schulze Topphoff  - Cavalito (by Chequille x Fidermark) -  7.3
11. Tatiana Kosterina - Diavolessa vA (by Don Frederico x Londonderry) -  7.3 
13. Johanna Löer - San Salvador (by Spielberg x Fidermark) -  7.2 
14. Ulrike Petershagen - Loriot (by Londontime x/ Lemon Park) -  7.1
15. Sonja Grunden - San Negro (by San Amour x Day Dream) -  7 
16. Amelie von Harsdorf - Damon' s Delight (by Damon Hill x Attraktiv) -  6.9
17. Frank Bogenschütz - Bel Air N  (by Bravissimo x Fleurop) -  6.3
17. Vicente Arroyo Penaranda - Madonna (by Sir Donnerhall I x Matula) -  6.3
Related Link
Eurodressage Coverage of the 2014 Bundeschampionate