2014 CDN Moorsele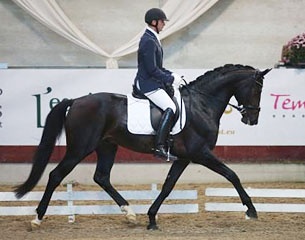 The 5-year old El Capone and the 6-year old Bilan became the winners of the Belgian qualification classes for the 2014 World Young Horse Championships held at the national show in Moorsele, Belgium, on Saturday 3 May 2014. No less than 47 horses contested the two classes, in which the young horse preliminary test was ridden.
At the 2014 CDN Moorsele also fourteen 4-year olds appeared at the starting line. Seasoned competitor Dominique Mohimont won the class on Future's Pirce, a Dutch warmblood by Vivaldi x Metall, with a score of 79,400 points. Only one point behind her was second place getter Julie Dossin on the Dutch bred First Lady (by Sir Donnerhall x Johnson), while the Belgian based Dutch rider Veronique Swagemaekers landed third place on 74.400 points with both her licensed stallions, the Oldenburg branded Shamrock (by San Amour x Donatelli) and the Oldenburg Sixth Sense (by Sir Donnerhall I x Florencio).
In the 5-year old division Tom Heylen certainly was on a roll capturing the two top spots in the ranking. Aboard the El Capone (by Tuschinski x Camus) he won the class with a whopping 88,000 points, while on Jar of Ballmore (by Gribaldi x Sunny Boy) he slotted in second with 82,600 points. Leopold Engelen and the Dutch bred Earl Scandic (by Scandic) were third with 81.400 points.
Travelling all the way from Germany, former Belgian WEG team rider Carl Cuypers put in a lot of miles with success to compete Anna Jaworski's Swedish warmblood Bilan (by Bocelli x Donnerschlag). The pair finished first in the 6-year old division with 79.00%. The Retie based Dutchman Rob van Puijenbroek placed second aboard the Oldenburg bred Seymour (by San Amour x Friedensfurst) posting a score of 77.200%. A broken leg has sidelined Tom Franckx from trying to qualify his horses for Verden, so Nick van Laer took over the ride on his two Verden candidates. With the KWPN mare Dolores van de Kwikaard (by Zucchero x Royal Dance x Sion) he finished third with 77.000 points. Qualification points count per horse and not the combination, so Franckx can easily get back on the horse later in the season.
Photo © Temps des Poses
Results - 2014 CDN Moorsele
4-year olds
1. Mohimont Dominique - Future'S Pride -   79,400
2. Dossin Julie  - First lady  -  78,400
3. Swagemakers Veronique - Shamrock  -  74,400
3. Swagemakers Veronique - Sixth Sense -  74,400
3. Vermeire Pieter  - showdancer -74,400 
6. Pauluis Larissa  -  Fame -  73,400
6. Bosman Kara -  katharina  - 73,400
8. Prevost Amandine -  Quaterdance  -    73,200  
9. Cool Isabel -  Freedom - 72,600
10. De Jong Priscilla - Focus  -   70,600 
11. Vandenbroucke Stephanie  - Bridget Jones Lzg -   68,400   
12. Marchant Julie -  Flash -  63,000
12. Engelen Leopold - Sir Highlan  -  63,000
14. Van Hoey Wim - Figo    - 62,800
15. De Greve Bart-  Knock-out Van Rozendycke  - 62,000 
16. Helsen Gert -  Berreaux- 61,200  
17. Mavroudis Marie-aurore -  Eole De Ghoy  - 59,600 
18. Opsomer Laura-  Kwarterline  - 57,400
5-year olds
1. Heylen Tom - El Capone -  88,000 
2. Heylen Tom  - Jar of Ballmore  - 82,600 
3. Engelen Leopold   - Earl Scandic   -   81,400 
4. Mohimont Dominique  -  El Corona Texel   -   81,000 
5. Van Laer Nick  -  evento d    -   80,600
6. Debie Kaatje -  Dr. Vos van het Bloemenhof -   80,400
7. Pauluis Larissa  -  Extasy -   79,600
7. Schlack Gudrun -  QC Don't Worry Be Happy   -  79,600 
9. Verreet Katrien -  Quorum Y -  79,200 
10. De Vlieger Andre -  Escado -  78,800   
11. Vermeire Pieter -  Ewald  - 78,600 
12. Hegemann Hannelore  - Dolce 'N'   - 78,400  
13. van der Horst Dominique -  Wolfshoeve's Excel  -  77,000   
14. Mohimont Dominique  - Espresso   -  76,400  
15. Cool Isabel -  Enjoy Me -  75,600  
16. Van Laer Nick  - Just A Little Bit Krack V/h Klaverhof  -   75,000  
17. Timmermans Anoushka - So Speciale Edition  - 74,000 
18. Bosman Kara -  Don Johnny  -   72,800  
19. De Keyser Heidi  - Jebe van het Keysersbos  - 72,000
19. De Jong Priscilla  - Electra Ddj  -  72,000 
21. D'Hoore Brecht -  Sicilia -  71,800 
22. Meisch Linda -  Jane Toja - 71,200  
23. Jongedijk Marije -  Elvis Presley - 71,000  
24. Van De Keere Frederik -  Esperance -  68,600   
25. Hegemann Hannelore  -  Diandra 'N' -  67,000
26. Hesters Steffi  -  Emporio SH  -   66,600  
27. Hassani Naoufal -  Ariane's Quazotti  -  66,000 
28. Tanghe Melissa  -  Jolie   - 64,800 
29. Jongedijk Marije  -  Efgaristo - 64,600
30. D'Hoore Brecht  - Envy v/d Wolfshoeve -  64,400  
31. Vileyn Bjorn - Sammelis van het Waterhof  -  64,000 
32. Ouagne David - Parenko des Quatre Chemins -  63,400
33. Maertens Kimberley -  El Frederico Van't Stal Poseidon -   63,000
6-year olds
1. Cuypers Carl -  Bilan  -  79,000 
2. Van Puyenbroek Rob  - Seymour -  77,200
3. Nick van Laer - Dolores van de Kwikaard -   77,000 
4. De Cock Isabelle - Dinka -   74,200 
5. Vanderbeeken Laurens  - All Inclusive - 74,000
6. Borghys Maarten -  Isaura Ter Dolen -  72,800
7. Vileyn Bjorn  -  Ile D\'Amour v/d Kiekenhoef  - 72,400
8. Borrey De Coninck Eline -  Davinci  - 72,200
9. Houben André - Dashy Boy -  71,400  
10. Van Oekel Daphne - Faraon Alegria   - 70,400
11. D'Hoore Brecht-  Darcy -  67,000 
12. Borghys Maarten  - Dalia Van Hazenhoek -  65,200  
13. Baptista de Almeida Antonio - Dayfony SMH   -  64,200 
14. Hassani Naoufal - Ariane's Wadest   -   64,000
Related Links
Eurodressage Coverage of the 2014 World Young Horse Championships
Minna Telde's Bilan Sold to Germany
El Corona Texel and All Inclusive Win First Belgian WCYH Trial at 2014 CDN Zandhoven