A Walk on the Premises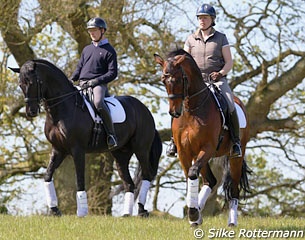 Spending a week in England during my Easter holiday I had the opportunity to join the friend I was staying with to her lesson with her regular trainer Fiona Bigwood, a multiple British team rider. Fiona and her fiancé, Danish Anders Dahl, promptly agreed to welcome me on my visit to their stunning new property Bourne Hill House in Horsham, Sussex.
The timing could have not been better with both having ridden themselves back into the limelight during past few weeks with Anders having dominated the small tour at the CDI Barcelona on Selten and Fiona making her Grand Prix come back in Addington on Sir Donato.
A Doggy Welcome

Whoever is complaining about the weather in England hasn't been here in the week before the Easter 2014. Having flown over from a cold, rainy and windy Germany on Monday, I set my sails from Padbury near Buckingham early Wednesday morning with an already blue sky and brilliant sunshine, though temperatures were still crispy.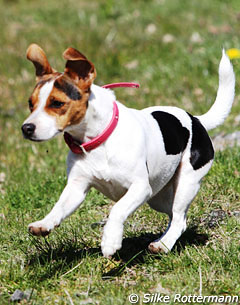 The 2,5 hour drive down to Sussex ran smoothly with our four-legged equine passenger happily munching at his small hay-net behind us. We left the motorway and cruised past beautiful countryside along the way to Horsham, a village from an English tourist-book with many tiny old houses and a few idyllic inns. It didn't't take long when we arrived at a brick-red door saying "Bourne Hill House" which opened when we approached it.
We entered a small world of its own dominated by green fields and forest. Almost on the top of the hill the barn, built only a few years ago after much thought and consideration, appeared perfectly moulded into the countryside.
We parked the lorry under some trees and walked towards the main entrance where the tail-wagging "welcome-committee" appeared in sight, making one happy fuss as if we were old acquaintances. Lulu, a petite Jack-Russell, Tom, the boarder collie and Max, the recently clipped cocker spaniel, were soon rolling on their backs in delight that visitors had arrived.
They gave us a first glimpse of the happy atmosphere that surrounded one of Britain's top dressage yards.
Leia McEvoy, Fiona's and Anders' travelling groom, gave us a heartfelt welcome. After having worked with Fiona in Germany, Liz Geldard Walsh took over to stay with Fiona for almost ages. Leia returned after having left in New Zealand for the past nine years when Liz started a family and sadly gave up grooming.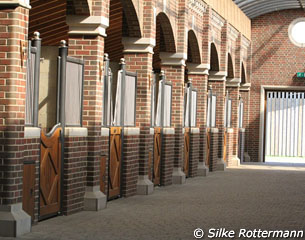 We followed Leia through the entrance to the huge grooming hall which  was as big as a chapel. There were tack-rooms with a kitchen facility next to grooming-stands for the horses. Opposite there were perfect washing boxes and a big solarium; everything in place for the equine athletes of Bourne Hill House to enjoy some well earned spa treatment after their daily work-outs. While Leia cooked me a cup of black tea we were greeted by Selten HW and Sir Donato who were standing next to each other being tacked up for their training. Both horses stood there totally relaxed and observing everything with an alert eye when Fiona and Anders appeared. While the former chatted to my friend about both their appearances at the winter nationals at Hartpury a few days before, Anders showed me the cleverly designed solarium which has a simple and cheap, but very effective lifting system, which guarantees that no horse ever gets hurt when rearing or touching the lights with his head for whatever reason.
Super-Stars in the Making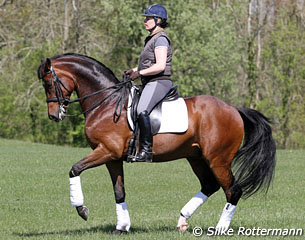 Fiona and her almost-husband asked me if I would like to see the horses in the indoor or outdoor arena. As the weather was just brilliant I promptly decided for the outside option. To get to the outdoor arena one walks up a broad aisle next to the truly magnificent indoor arena where one of the girls were exercising a young horse.
There was a covered horse-walker to the left up the hill where the Olympic sized outdoor arena is located in the midst of a wood-glade.
Through the trees which just started to blossom one could get a glimpse of Fiona's and Anders' house built in the same red-brick-style like the main barn, the indoor arena and the horse-walker. The architecture is certainly very stylish and impressive, but not at all posh or with that exaggerated luxury touch one can observe in other barns of that standard.
While Fiona appeared with the beautiful Westfalian Sir Donato (by Sir Donnerhall x Barsoi xxx Vollkorn xx), Leia followed with Selten (by Sandro Hit x Hohenstein) in hand and walked him for a while. The pitch-black US-bred Hanoverian, which was bought at the 2012 Equine Elite auction, seemed to completely be at peace with himself, no matter what was going on around him. Selten HW was just out in Spain winning all three classes of the small tour at the new Barcelona CDI, but during this home training session he left no doubt that we'll soon see him in the Grand Prix ring with similar success. His piaffe looked already very confirmed and classical, visibly lowering his haunches, active and off the forehand. The canter pirouettes always in rhythm and well collected. The powerful gelding matched his rider really well and both worked in unison throughout the training session.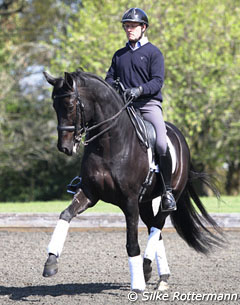 Not standing an inch behind was Fiona's magnificent Sir Donato, a harmoniously built gleaming bay gelding with a very well set neck and top-line and most beautiful head. Ridden mainly on the snaffle rein by Fiona he moved with that unbeatable combination of energy and light-footedness through the Grand Prix movements. What was just remarkable in both combinations was the quiet and focused way man and horse work together; not one stressy moment or discussion between them, not one resistance leading to pressure detected, even though the parts of the whole Grand Prix programme ware asked.
Let Horses be Horses

To keep the photographer in happy mood, Leia brought Selten HW back to the "spa" and returned with another cup of wonderfully strong English breakfast tea and a cinnamon swirl for me. If only work would always be like that: watching wonderful horses in the warm spring sunshine while being served food and drinks!
Anders and Fiona went back to the stables while Leia helpsed me with posing Max for photos, but the cute chap was more interested in taking a mud bath nearby, even though we finally succeeded. "We used to have rescued Staffordshires for a long time, but with the children being that small and often not knowing about the past of our dogs, we decided to give them to my mum and introduced these three dogs to our family last year," said Fiona. "They are absolutely wonderful and so suitable for having small children around."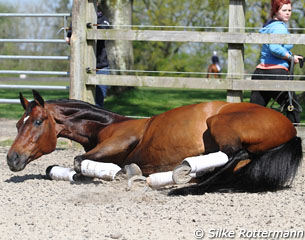 Meanwhile groom Vicki Prince led Sir Donato in a halter towards the paddocks right behind the horse-walker. Except one horse which had a serious shoulder injury, all equine athletes at Fiona's and Anders' are allowed to have their daily turnout, if possible even in pairs "as there's nothing nicer than two horses scratching their back," said Fiona.
The big paddocks are properly fenced and have the same surface like the riding arenas. Donato is not very interested in playing the fool like horses sometimes do. Instead he quietly looked for the perfect spot to roll, did it with apparent pleasure and then presented himself in all his beauty to us admirers standing around.
While Donato visibly enjoyed sun-bathing, Fiona and Leia took me to the big fields located just at the bottom of their house. Two simple, but well constructed running sheds were located at the entrance gate with non-freezing automatic drinkers and feeding troughs attached. Here Fiona's home-bred young-stock, one oldie and her two brood-mares were running free and living outside most of the year. "We try to keep them outside as long as possible into the winter. This year the winter was very mild which was good. But if it's getting too cold we turn them in. We have two large running stables at the barn where they then live," she explained.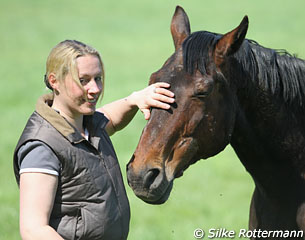 No need for that then as temperatures were nearing 20 ° C and the sun was burning on the gleaming coats of a chestnut, a brown with striking white marks and a black yearling who were standing at the other side of the extensive field. Fiona called loudly after them and not long and the small herd was running towards us: manes flying, legs hardly touching the ground over the lush green turf. Can even a perfect piaffe be more delighting than this?
Fiona welcomed the "gang" with friendly words of appreciation and cuddles while a brown horse slowly moved towards us as well. "Hi Womble", Fiona cheerfully talked to the apparently old campaigner of hers, stroking his head. "Womble was one of my first real dressage horses; I did the juniors with him. His competition name was Paraguay and he's a Hanoverian. He must be about 30 now."
While Womble seemed to be really happy being babysitter to the youngsters, Fiona's other former international horses were all with her mother Penny who lives about an hour away. "She still hacks Afrikka who is now 24. Also Macho (29) and Habana (26) are still around in the field there," she added. I asked if Fiona ever bred to Habana (by Hyllos) as the mare seemed to be the perfect choice. Fiona sighed: "No, unfortunately we couldn't do that. She had a rather big hernia and it wasn't just worth the risk."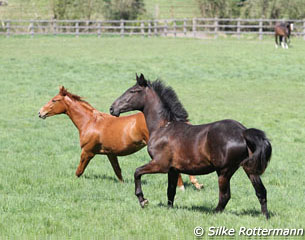 Pablo Picasso, Fiona's Young Rrider horse and Nector, the Grand Prix horse previously ridden by Ingrid Klimke, have both died at a high age only two years ago.
Excellent loving horse-management are keeping them happy and healthy. This should be the principal goal for any dressage-rider. Good househeeping is surely responsible for Fiona's horses becoming that old and in such a good state.
The youngsters in the field knew nothing about the serious side of a horse's life so far. Fiona pointed towards the black colt: "He's by Dramatic and you can see that. Unfortunately Dramatic, as talented as he had been, could never stand up to the pressure of high level competitions what made him too unreliable to pursue a career with him. He is happier now competing at junior level in Germany," Fiona explained.
Present and Future Stars

Returning to the outdoor arena from our trip to the "kindergarten" two horses were waiting to be exercised: Wie Atlantico (by Wie Weltmeyer) and Atterupgaard's Orthilia (by Gribaldi). Whereas the former is Fiona's 2010 WEG team horse and at 14 a more than seasoned campaigner and a well respected horse on the international circuit, "Tilly" is a future star in the making. Fiona bought her in Denmark where she was previously ridden by Danish European Young Rider Champion Catherine Dufour last autumn. The handsome brown mare is a super type of a horse, with a very harmonious conformation and striking musculature, but at the same time a lovely head with a motherly sweet look in her eyes.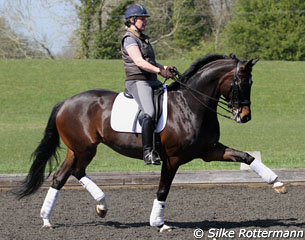 "Tilly is very sensitive and in a positive sense hot. She always wants to give her all and do everything right and please her rider. She's so much fun to work with," Fiona beamed when mounting Orthilia. Again Fione rode the horse almost entirely on the snaffle rein and took proper care the mare was presented in a nice outline throughout the ride. Leia warned me that Tilly's extended trot is out of this world and surely the quality of the mare's extension was phenomenal. She possesses amazing shoulder freedom while the hind-legs quite managed to keep up with it at the same time.
While the extensions alone do not make a GP hopeful the Danish mare's passage was already very confirmed, regular, with lots of suspension and swing. She did not have the least problem doing the transition into piaffe in which she once came that much under so that she stepped probably onto her coronet band of the front-hoof, causing her to jump in the air. Fiona reassured her everything was fine while Leia checked if the fetlock and hoof were still intact which they luckily were.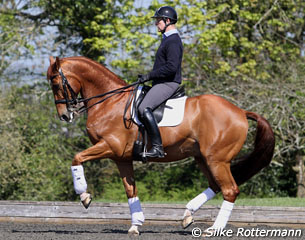 Anders walked Wie Atlantico in between his Grand Prix work and observed Fiona working her female future star in the making. Both help each other in their daily work, but they also regularly have Kyra Kyrklund's husband Richard White there to assist them with their horses.
They are lucky to have had good trainers from the start of their careers on. One of them was Dane Hasse Hofmann in whose stable the Danish-British-liaison started almost twenty years ago. Training under the tutelage of Belgian born German Jan Bemelmans and later Dieter Laugks, Fiona and Anders went on to have their own yard in Germany before returning to Great Britain a few years ago. Their three children, Mette, Morten and Lars, were on the day of my visit in Denmark at their grand-parents to spend Easter there, awaiting their busy parents the next day.
The Youngest Member of the Gang

Kate and Lisa were now being helped by Fiona onto Wie Atlantico and Orthelia to walk them around the property which offers great hacking possibilities. While Anders returned to the house to prepare their departure to Denmark the next morning, Fiona awaited my friend for her lesson on the 7-year-old petite thoroughbred which provided such a stark contrast to the warmbloods I've seen before.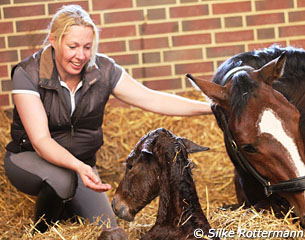 But after only a short while Leia rushed towards us, waving her hands: "Come quickly, the foal is coming!" Fiona and I left immediately, hurrying down to the stable and leaving my poor friend behind whose sensitive gelding was not amused at all at the sight of it. At the end of the 5 metres wide stable aisle Fiona and Leia stood in front of the huge box of a bay mare. The foal was already delivered with his mum licking passionately at the wet hair-ball with visibly long legs. Fiona carefully entered the stable and talked quietly with the mare: "Good girl, are you, well done."
Unperturbed by the "intruder" the foal lay there in the straw being photographed by me and several iPhone cameras. A few minutes later the liver chestnut colt, the first of Fiona's more recently gelded small tour horse Cashmir (by Serano Gold), was up and revealed his endless legs and remarkably strong hocks. "She's an experienced broodmare and does so well every time, but last year she lost her foal which was a real blow for her," said the happy "horse-mum" who could not turn her eye away from Bourne Hill House's latest member to the equine gang.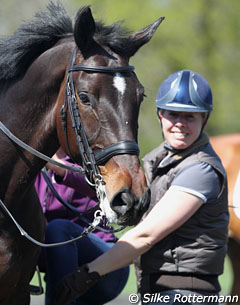 Finally we returned to the lesson. If time--which is mostly occupied by the children, family and training her own horses-- allows it, Fiona gives lessons on her yard to a few riders. Unlike other high performance trainers I observed teaching, Fiona was talkative in a positive way. She explained in detail what the horse needs and in which way to apply the aids. Whatever horse and rider were working on, Fiona would always take care that the horse opened his neck and came in front of the vertical.
Rio in Sight

Though none would confirm it to me, my visit to Bourne Hill House revealed that Fiona's and Anders' sights are firmly set on Rio 2016 with these highly talented horses.
Great Britain and Denmark can be looking forward to them strengthening future teams, either under the Olympic rings or at some other international occasion. The basis for that is of course the outstandingly quality horses, but this is only one of several preconditions to climb the ladder of dressage and stay on top.
Bourne Hill Stable is home of horses that are extremely well looked after, cared for and managed in a way so they can keep their personalities and fun for life. Fiona and Anders pay attention to the fact that high performance equine athletes are still catered for their natural needs which are and remain, no matter how high their value is, much of exercise and social contact outside their stall. In that sense Bourne Hill Stables are the home of happy horse athletes.
Text and Photos by Silke Rottermann
Related Links
Fiona Bigwood Returns Home from Hospital
Fiona Bigwood Hospitalized with Concussion After Fall
Fiona Bigwood Makes Show Come Back with Sir Donato at 2014 CDI Addington
Fiona Bigwood Acquires Rising Grand Prix mare Orthilia