Westfalian Breeding News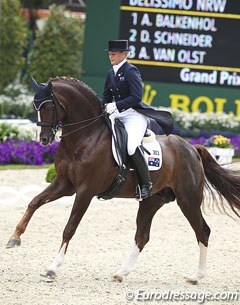 The Rhinelander foundation stallion Belissimo M can certainly be described as a king of hearts amongst dressage breeders. The liver chestnut stallion has captured the hearts of breeders world wide passing on great looks, rideability and athleticisim to his offspring. Belissimo M not only proved his value in the show ring as an international Grand Prix horse, but his successful get are a testimony to his exquisite genes.
Owned by Gestut Westfalenhof the 15-year old Belissimo M (by Beltain x Romadour II x Lucius xx x Welfenprinz) is based in Steinhagen, Germany, where he stands at stud as one of the most sought after dressage stallions in the world.
"To us Belissimo is one of the, or perhaps, the best German dressage stallion and one of the best in the world," said Westfalenhof's stud manager Kathrin Sudhölter proudly. "Of course it is a great honour to have this star around. When we started our own breeding station at Gestüt Westfalenhof, we were always looking for a son by Belissimo M and now we have the original."
Westfalenhof acquired Belissimo M in December 2013. While he concentrates on his breeding career, the stallion is kept fit under saddlewith regular hacks in the woods. Sudhölter makes sure the stallion is not pushed to perform and guarantees the ideal lifestyle for a breeding stallion at their E.U. approved station.
"It's such an amazing experience to have him around. Right from the beginning we very overhelmed by the reactions of people who were touched by him in their life. To all of them he means so much and that it was really amazing to find out," Kathrin explained about the incredible positive feedback they got when Belissimo M moved to their yard. "Now that he is here with us we can really understand. I never met a horse that touches the peole so much straight in their heart. He is the most sensitive horse I ever met and he is so much into his people. It is really awesome."
Bright Beginnings
Belissimo M's future has been bright from the beginning. Already as a 3-year old he impressed the crowds and became the price highlight at the 2002 Westfalian Spring Elite Auction. He was purchased by Gabi Betz and Hans Elmershaus and the ride on the talented young stallion was given to professional Holga Finken.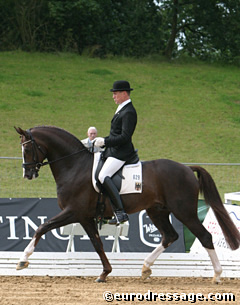 "I immediately fell in love with him when I saw him at the auction," Holga Finken told Eurodressage. "I thought if he were as good to ride as he looked, it would be an incredible horse. Then I tested him and what I had seen was true. He gave me an incredible feeling."
Finken and Belissimo M won the 2003 Bundeschampionate for 4-year old riding horse stallions, which was the first of many major achievements the stallion accomplished. One year later, the pair represented Germany at the 2004 World Championships for Young Dressage Horses in Verden, Germany, where they finished fifth.
"He had the best character," Finken stated. "He is one of the sweetest horses I ever had."
Belissimo M Claims International Fame
In 2005 Belissimo M came in training with Kathrin Meyer zu Strohen, who also booked career defining successes with the sympathetic stallion. The pair qualified for the 2005 Bundeschampionate and won the silver medal with a whopping score of 9.2 points. 
"Belissimo played a very important role in my riding career," said Meyer zu Strohen. "I'm still very attached to this stallion.  He was such a fun equine partner. He was earger to learn, intelligent and always wanted to do right. He's very attached to people and has a unique character. We had such a great time together!"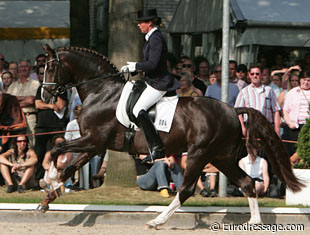 Kathrin remembered that she only had a few months time to prepare him for the 2005 Bundeschampionate, but it was thanks to his great rideability and character that they made it there. "I remember the flying changes were not secure at the time, but we did it and he did such a super job. We had a super test in the Finals and only one change didn't work," she confessed.
Meyer zu Strohen continued to train Belissimo M to FEI level but no longer competed him. Belissimo's increasing breeding duties made it difficult to have him commute to Meyer zu Strohen's yard in north Germany for regular training. 
"I trained him to S-level and I remember he easily picked up the half steps. He was only occasionally with me as he had to be home for breeding, but because of his great disposition and high rideability it was no problem to him to learn the movements. I had so much fun working with Belissimo. Also at stallion shows, he really blossomed when he saw the full house and heard the applause."
Belissimo Babies Rule the World

For a few years Belissimo M disappeared from the show circuit, but his name remained predominant in the press. He had built himself a reputation as an extraordinary breeding sire and his young offspring started to claim their own fame.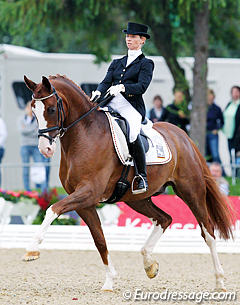 Eva Möller and Blickpunkt (by Belissimo M x Weltmeyer) won the 2009 Bundeschampionate as well as double bronze at the 2009 and 2010 World Young Horse Championships in Verden. Bentley (by Belissimo M x Weltmeyer) was the crowd favourite at the 2008 Hanoverian Stallion Licensing, and the licensed Balesteros (by Belissimo M x Davignon) recently sold to Canadian Grand Prix rider Pia Fortmuller.
Belissimo M has produced numerous top selling auction horses, including daughter Belandra which sold for 572.000 € at the PSI auction. In 2008 the 3-year old Bundeschampion Bacchus von Worrenberg (by Belissimo M x Calypso II) became the most expensive horse at the 2008 Verden Autumn Elite Auction with a knock down price of 195,000 euro. In 2011 his first born offsping participated at S-level and by 2012 there were already 15 S-successful daughters and sons by Belissimo, many of them winners. One of Belissimo's most exciting offsprings is Isabell Werth's rising Grand Prix horse Bella Rose, which is considered to be one of the best young Grand Prix horses in the world.
Olympic Contender
As a dressage stallion Belissimo M returned to the spotlight in 2011, when Australian Olympian Hayley Beresford took place in his saddle. The stallion was competed at small tour level that year, performing at high profile international competitions such as the CDI Hagen, CDI Lingen and CDIO Aachen.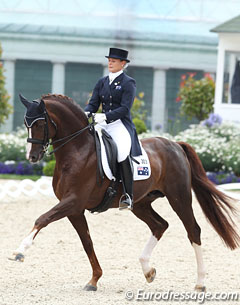 "I was very fortunate to cross paths with Bello," said Hayley Beresford. "He was not just another horse, he is a horse that will always be very special to me. Bello loved working and he loved to be challenged. He learnt the entire Grand Prix in 6 months and he loved to be on show."
In 2012 the pair made its Grand Prix debut and succeeded all expectations by becoming a serious contender for an Australian Olympic team spot. Belissimo scored the third highest qualification score at the two official Australian Olympic selection trials in Mannheim and Compiegne. Unfortunately he was not granted a team spot by the Australian selectors, who made last minute changes to the selection rules for their choice of team.
In April 2013, Hayley stopped riding Belissimo M. "I was very sad when I had to stop riding Bello, but I am grateful for the time I had with him. I think all his riders were compromised by how heavy his breeding schedule was and I think all his riders would agree that, although he has enjoyed a great sports' career, he could have been truly great had sport been ever his main priority. I have a Belissimo offspring in my stable at the moment. I will always look at his offspring as potential prospects and I really believe that the sport will see some of his offspring at the very top in the not too distant future."
A Life at Westfalenhof
With a dressage competition schedule on the back burner, Belissimo M is now enjoying a much more relaxed life at Gestut Westfalenhof, where his health and happiness are main priority. He is focused on breeding with a very light schedule under saddle.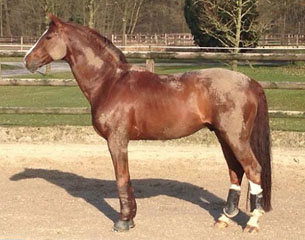 "Our only aim is to keep him fit and healthy," said Sudhölter. "At the moment he is enjoying a lot of hacking in the woods and of course a lot of free time in the field. Two or three times a week he is doing some dressage work to stay fit and flexible and it is amazing how much he likes it. With the help of Hayley and Miriam Henschke, he got back to a his "dressage shape" so easily and fast it was amazing. We will see what the future brings. In all parts of his life Belissimo M gave all his best to the people who were important for him. Now it is time that he gets back the best and does everything he really enjoys."
According to Sudhölter, Belissimo M is one of few stallions who passes on all his fortés to his offspring. Belissimo's assets are a great character and ridability, which are traits both prevalent in all his offspring. "His offspring are known to be easy to handle and very easy and fun to ride. With his three outstanding basic gaits he makes spectacular young horse champions as well as upper level dressage horses." 
Belissimo babies especially impress with a great canter, an abiity to collect easily and a superior talent for piaffe and passage. "With many stallions you have to decide if you want to breed an easy to sell amateur horse, or a top class dressage horse, which is sometimes not suitable for the normal rider. With Belissimo you get both together," Sudhölter exclaimed.
Related Links
Stallion at Stud: Belissimo M
Belissimo M Sold to Gestut Westfalenhof