2014 World Cup Finals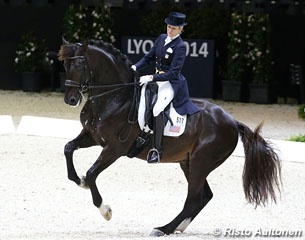 The 2014 World Cup Dressage Final came to an exciting conclusion Sunday afternoon at the Lyon Eurexpo, as 17 of the world's best performed their Freestyles. The two American riders, Tina Konyot and Cesar Parra, both posted improved scores over their Grand Prix results to close out their trip to the FEI's only annual championship.
Entering the ring as the fifth combination of the day, Konyot (Palm City, Fla.) and her 16-year-old Danish Warmblood stallion, Calecto V, performed their trademark Freestyle set to the music of KT Tunstall and Beyonce. The 2010 World Equestrian Games and 2012 Olympic Games veterans began with the strong trot tour they have been become known for, however, three-quarters of the way through her test Konyot forgot her floor plan resulting in a different ending to the test than originally planned.
"The beginning of my ride was beautiful, he felt fantastic. Then about three-quarters of the way through the ride I just drew a blank; it has never happened to me before," said Konyot who was nonetheless extremely proud of her horse's performance in Lyon. "He was great, wonderful. My horse felt superb."
They finished the feature class of the 2014 Final in 12th place on a score of 71.929%.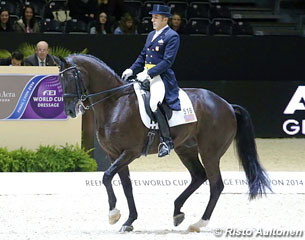 Parra (Whitehouse Station, N.J.) and Michael and Sarah Davis' Van the Man had an improved performance over their Grand Prix ride to score 68.429% and finish in 16th place. The tension that had plagued the 12-year-old Dutch Warmblood gelding on Friday appeared nowhere in sight as he executed an obedient test set to up-tempo contemporary music.
"It was much better than yesterday and a great way to celebrate Easter," said Parra who had plenty of praise for his developing horse. "He's a nice horse; he's very talented and just needs time to bloom."
Photos © Risto Aaltonen
Related Links
Scores 2014 World Cup Finals
2014 World Cup Finals - Table of Contents