2014 World Cup Finals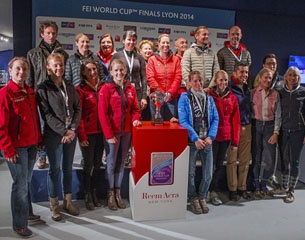 America's Tina Konyot will be first into the arena when the 2014 World Cup Dressage Final gets underway at the Eurexpo Arena in Lyon, France tomorrow afternoon.  The Grand Prix is the first of the two competitions that will decide the 2013/2014 World Cup title, and while defending champions, Germany's Helen Langehanenberg and Damon Hill NRW, go seventh of the 18 starters
, their greatest rivals Britain's Charlotte Dujardin and Valegro have a much better draw when second-last to go.
The draw was conducted by Lyon's Dressage manager Georg Fincke while Technical Delegate Maya Stukelj and Ground Jury President Jean Michel Roudier pulled the names and numbers out of the hat. 
Denmark's Nanna Skodberg Merrald is listed second for tomorrow's competition which will begin at 15.00 local time, but her 13-year-old gelding, Millibar, must first pass re-inspection at 07.00 having been held over during today's first veterinary check.
Challenge
Despite holding the Olympic and European titles as well as all three world records in Grand Prix, Grand Prix Special and Freestyle, World No. 1 rider Dujardin still faces a significant challenge this weekend as she rides a brand new Freestyle test for the very first time on her World Cup™ Final debut.  "This will be the first time for people to see it and we want to get it as good as we can and show Blueberry's (Valegro's) highlights and strengths.  It's a difficult task but it's a lovely piece (of music) and Carl (her trainer and mentor Carl Hester) loves it!" Dujardin said.  She decided that Olympia in London last December would be the last performance of the floorplan that brought her Olympic and European gold, but it has been hard work putting the new programme together.
Tom Hunt has created the new musical score. "Carl decided on the floorplan and I've been working with Tom on the music.  I've worked harder on this new piece and I've been phoning and emailing him every day to get it where I want it" Dujardin explained.
Langehanenberg meanwhile is staying cool as a cucumber about any threat to the title she secured last year.  Looking back on how things have gone for her since she lifted the World Cup title in Gothenburg last April, the German rider said today "I only had it in my hand that one time, but what a year it has been since then! Now every time I compete with Dami I go "wow that was perfect" and he just keeps coming up with better and better scores!" She said she is really looking forward to the competition getting underway.  "We are going to enjoy it and give our best, we can't force it - we will try to keep the lightness and we will be fighting every inch of the way!".
Gone to plan
Riders have gathered from all around the globe for this year's Final, and for Mary Hanna who travelled all the way from Australia it hasn't been the easiest of passages.  Because her 13-year-old gelding, Sancette, lost a shoe during his flight to Europe and stood on one of the nails which became embedded in his foot.  Fortunately Hanna's groom, Carol Newby, noticed it almost right away and with the nail withdrawn quickly there was no time for infection to set in. 
"But he was lame for almost two weeks after we arrived and it was a worrying time" the Australian rider explained.  Based with Sweden's Patrik Kittel in Germany during her European visit she has been working hard to get Sancette back in shape. "Fortunately he's fine now and going really well again" said Hanna who is drawn in 11th place tomorrow and whose goal this weekend is a personal best score.
Relishing the opportunity
The Netherlands' Edward Gal, World Cup Dressage champion in 2010 with Totilas, will be sixth into the ring with  Undercover and is relishing the opportunity to demonstrate the ever-increasing potential of this 13-year-old gelding who has really grown in confidence and capability in recent months.  "He just keeps getting better every time he competes and I just hope he does his job and continues to improve here again this weekend" said the Dutchman.
The fabulous line-up promises a fascinating few days of top sport.  FEI Director of Dressage, Trond Asmyr, said today "I'm convinced this will be the best Final we've ever had.  The level of sport is better than ever and we have all the best horses and riders here and ready to go!"
Order of Go

The order of go for the first leg of the World Cup™ Dressage 2013/2014 Final, the Grand Prix which takes place tomorrow (Saturday 19 April) at 15.00 local time in Lyon, France is as follows:

1.    Tina Konyot / Calecto V (USA)
2.    Nanna Skodberg Merrald / MIllibar (DEN)
3.    Marcela Krinke Susmelj  / Smeyers Lazander (SUI)
4.    Inessa Merkulova / Mister X (RUS)
5.    Danielle Heijkoop / Siro (NED)
6.    Edward Gal / Undercover (NED)
7.    Helen Langehanenberg / Damon Hill NRW (GER)
8.    Tinne Vilhelmson Silfven / Don Auriello (SWE)
9.    Isabell Werth / El Santo (GER)
10.    Marc Boblet / Noble Dream (FRA)
11.    Mary Hanna / Sancette (AUS)
12.    Elena Sidneva / Romeo Star (RUS)
13.    Hans Peter Minderhoud / Johnson  (NED)
14.    Jessica von Bredow-Werndl / Unee BB (GER)
15.    Cesar Parra / Van the Man (USA)
16.    Dong Seon-Kim / Bukowski (KOR)
17.    Charlotte Dujardin / Valegro (GBR)
18.    Mikala Gundersen / My Lady (DEN)
Related Link
2014 World Cup Finals - Table of Contents