2014 World Cup Finals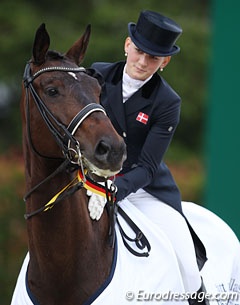 Tough luck for Team Denmark! After qualifying no less than four riders for the 2014 World Cup Finals in Lyon, France, only one of them will actually be competing in the them. Nanna Skodborg Merrald's Millibar failed the re-inspection on Saturday morning 19 April 2014. Mikala Gundersen will be the sole rider representing Denmark in Lyon.
Four Danish riders qualifier for the 2014 World Cup Finals: Anna Kasprzak, Nanna Skodborg Merrald, Lars Petersen and Mikala Gundersen. Kasprzak was the first to drop out as she was not fit enough to compete after falling off her horse three weeks ago. Lars Petersen's Mariett sustained a hoof abscess a few days ago, and Nanna Skodborg Merrald's 13-year old Danish warmblood gelding Millibar (by Milan x Liberty Dane) failed the re-inspection.
The bay gelding was not fit during the first, official trot-up on Friday, showing unlevelness behind. He was sent to the holding box to wait for a second trot-up in which the horse still was not even. The combination was offered the chance for re-inspection on Saturday morning, but the horse failed again.
The 20-year old Merrald told Tidningen Ridsport that "he was in super nice shape when we left Denmark. He was good here too but then something must have happened. I tried riding him yesterday but I felt he wasn't totally right. I won't start him if Millibar is not totally ok."
Photo © Astrid Appels
Related Links
2014 World Cup Finals - Table of Contents
Title Defender Parzival Up for Re-Inspection at the 2012 World Cup Finals
Skodborg Merrald Leads Cream of the Crop at 2013 Danish Under 25 Championship