Eurodressage Market - Products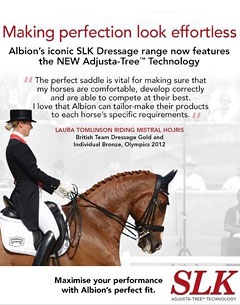 Internationally renowned British brand Albion Saddlemakers, is recognised as one of the most innovative saddle designers and manufacturers in the world. Through constant research and development Albion understands the direct correlation between correct ergonomic design, fit and comfort creating competition equipment dedicated to enhancing performance in all disciplines at all levels.
Albion has resolved some very extreme saddle fitting issues, impressing some of the most successful Olympians to date with their scientific, logical and technical approach. Through continuous research and development combined with information provided by vets, physiotherapists and eminent saddle fitters worldwide, Albion has identified the need for a different panel shape to allow the shorter backed horse to perform at optimum levels without pain or restrictions.
Albion's ergonomic designs have proven a huge success yet again with the recent launch of their 'Short Back Panel' option.  The 'Short Back Panel' option follows the contours of the shorter backed horse laterally and longitudinally whether they have a curved or flat back.  The specialist 'Short Back Panel' option eliminates pressure directly behind the saddle allowing maximum freedom of movement for the horse over the back and loin area maximising hock engagement.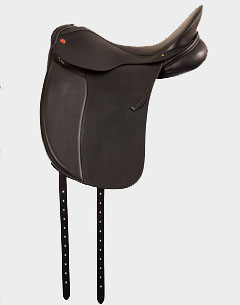 The 'Short Back Panel' option is now available in their original SLK® range, which was developed in conjunction with Klaus Balkenhol in 2001 and is now recognised as one of the leading saddles in the dressage market today.  Available in all seat sizes and fittings across the complete SLK range including the SLK, SLK Ultima and SLK Royale. The complete SLK range now contains Adjusta-Tree™ as standard.
Albion is passionate about correct saddle fitting and believes all horses and riders need and deserve to be comfortable to achieve maximum focus, freedom of movement and performance, in all disciplines, at all levels.
Renowned for optimum fit and performance, trainers, owners, riders and saddle fitters worldwide trust that Albion can offer a fitting solution for 95% of horse shapes.
PERFORMANCE AT EVERY LEVEL WILL BE ENTIRELY INFLUENCED BY THE QUALITY OF THE SADDLE FIT
For more information on the complete range please visit www.albionsaddlemakers.co.uk or call us on +44 (0) 1922 646210.