2014 CDI Addington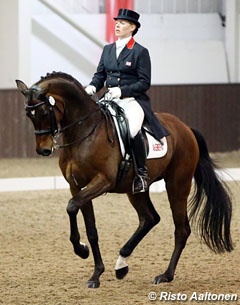 Getting back into the international show ring after some time off the Grand Prix calendar, British rider Fiona Bigwood decided to enter the 2014 CDI Addington  just a week out from competition. She was delighted with Sir Donato's sixth place in the Grand Prix class. However the pair dropped to 11th place in the Kur as a result of the disco arena!
"I entered my second national Grand Prix on the Sunday before Addington and Donato got 69% so I rang our main selector, David Trott, to ask that if anyone had pulled out of Addington, and could I please go," Bigwood told Eurodressage. "The answer came back yes, so there was a mad panic trying to get an FEI passport for Donato, and my music shipped back from Barcelona where Anders Dahl had it in the lorry."
Riding the 9-year old Oldenburg bred Sir Donato (by Sir Donnerhall x Barsoi xx x Vollkorn xx) to a 68.060% score in the Addington Grand Prix, Bigwood but the Kur proved to be challenging for the inexperienced international Grand Prix horse.
"Donato was lovely in the Grand Prix at the show, but in the Kur there was an 8 metre blue light circle on the sand that he was worried about, but he still put a smile on my face," she said. "When he trots around it makes all the years of hard work worth it. He is a horse I truly believe in."
Fiona bought Sir Donato at the 2007 Westfalian Stallion Licensing as a 2,5 year old and she describes him as just the kindest horse. Fiona says tries his heart out for her!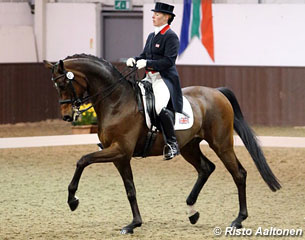 "He can get quite hot which I like in a Grand Prix horse. For me, he is a horse who has everything but he just needs time to get used to all that is happening at an international show. He hasn't competed much so he just needs exposure as his work at home is very confirmed."
Desperately wanting to show again at Grand Prix level during her time out of top competition, Fiona confirmed it is just great to be back. She is glad that her hard work is paying off!
"The horses just weren't ready to get back into the Grand Prix so it has been a waiting game and to be back is just amazing," she explained. "My 7-year old daughter asked me the other day why I never have a day off and it is because I want to be back on the international scene and I know that I have to put in the work to get there.That is where my heart is."
Trained by Richard White, Fiona is lucky that her long-time fiancé Anders Dahl also keeps an eye on her. The Brit is excited about the future of Sir Donato as well as of her other upcoming stars.
"Atterupgaards Orthilia is a 9-year old Danish warmblood mare (by Gribaldi x Donnerschlag x Rambo) who is very talented and has had a lot of success under Cathrine Dufour. We only bought her at the end of last year but I am hoping to do a national Grand Prix with her in the next month and we will go from there. She also has the most amazing temperament. She is hot but so kind which makes her so straightforward to work with."
Fiona swapped rides with Anders on Selten HW and Cashmir and she is currently training the latter, who is now a 7-year old ready for Prix St. Georges.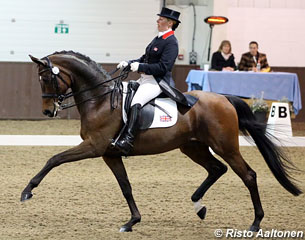 "As a 5 year old he competed under Anders at the World Young Horse Championships in Verden," she said. "I also have another 10-year old Grand Prix horse called Riccochet and a lovely 6 year old, plus some younger ones. There is enough for me to do!"
Aiming to give each of her horses the time that they need, Fiona believes they are all quality horses with big futures in front of them but at the same time they need to get used to performing away from home in different atmospheres, and so she would like to do some smaller shows and just see how it goes from there.
As for the future? "I hope to be back doing the big international shows and hopefully get on the British team," Fiona stated.
Text by Sarah Warne - Photos © Risto Aaltonen
Related Links
Scores: 2014 CDI Addington
Brits Take 2014 CDI Addington by Storm