2014 World Cup Finals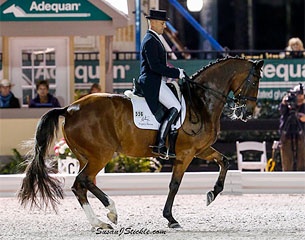 The World Cup Dressage North American League drew to a close last weekend at San Juan Capistrano (USA) with a win for America's Brian Hafner and Lombardo LHF. However the qualifying spots for the 2014 World Cup Final at Lyon (FRA) next month had already been decided, and it is the USA's Tina Konyot and Cesar Parra who have made the cut.
The overall League winner was Denmark's Lars Petersen, and the Danes were in fine form throughout the season as Mikala Gundersen followed him in second place. But they were both competing as "extra athletes", so with third spot for Konyot and fourth for Parra, the US selection has been decided. Should either of these two US riders decline the invitation to travel, the offer will be passed on to the next two on the League leaderboard, America's Catherine Haddad-Staller and Canada's Diane Creech.
The World Cup Dressage North American League caters for riders from Canada, Mexico and the USA. Australia's Kelly Layne also took part, ensuring five nations, including Denmark, were represented throughout the series which began last August.
Nine legs
There were nine legs in total, beginning with back-to-back events at Saugerties (USA) in August and September last year which were followed by a single fixture at Devon (USA) also in September, two legs in Wellington, Florida (USA) in January, another at Burbank (USA) in February and then two more at Wellington in February and March before the last round took place at San Juan Capistrano, California (USA) at the weekend.
Each rider was obliged to compete in the Freestyle to Music in at least two events in order to meet the qualifying criteria, and their two best results over the series were taken into account. There was no League Final, and a minimum score of 68% was required each time. The top two percentage scores achieved were added and then divided by two to calculate a rider's final score.
The highest-scoring rider in the League was Denmark's Petersen with 78.700 when the final calculations were completed. He lined out at five fixtures with his horse Mariett, achieving the biggest mark of the season when posting 79.950 at Wellington two weeks ago. That added to the 76.975 achieved at Devon in September left him more than two full marks ahead of his nearest rival and compatriot, Gundersen, whose best result also came at the last of the Wellington qualifiers. The 76.500 she recorded here with My Lady, combined with her next highest mark of 76.125 at the previous leg, secured second place on the League table with a final score of 76.313.
It was a pleasing result for Petersen who, along with top American trainer Lisa Wilcox, has influenced the successful competitive career that Gundersen has established in the USA. However only one of the two Danes will make it to the Reem Acra FEI World Cup™ Dressage 2014 Final, as Denmark has already qualified two riders through the Western European League and only three per nation are permitted to compete. Petersen has been offered the spot, but Gundersen could substitute in case of a withdrawal.
Clear-cut
It was a more clear-cut affair for the Americans as Konyot claimed the first of the two available places and Parra took the second. Konyot only competed twice, but the 52-year-old made a good impression each time, with a mark of 72.975 at her first outing in Devon with Calecto V and an even smarter 77.975 at Wellington earlier this month for a final tally of 75.425.
Cesar Parra finished less than two points further behind to claim the second spot at the Lyon Final. The Colombian-born rider, who competed for his native country at both the 2004 Olympic Games in Athens (GRE) and the 2006 World Equestrian Games™ in Aachen (GER), became a US citizen in 2008 and took team gold for his newly-adopted country at the Pan-American Games in 2011
He lined out at three events, and his top score with Van the Man was 74.000 posted at Wellington in early March, while his second-best result was at the next Wellington fixture where he racked up a mark of 73.925 for a final qualifying result of 73.956.
Catherine Haddad-Staller and Mane Stream Hotmail posted a final score of 72.963 after a two-pronged campaign that saw them register marks of 71.725 and an improved 74.200 at Wellington to leave them in fifth place in the league standings.
Creech meanwhile enjoyed a four-fixture campaign with Devon L, achieving her highest scores at the first two - 72.300 and 73.175 at Wellington in January to slot into sixth. Creech is also a pupil of Lars Petersen whose influence on the North American circuit is clearly a strong one.
As yet there is no official notification of the acceptance of invitations to compete, so the definite line-up for the  World Cup™ Dressage Final, which will run from 17-21 April, is as yet unconfirmed.
World Cup Dressage North America League 2013/2014:

1.    Lars Petersen DEN                    -    78.700
2.    Mikala Munter Gundersen DEN   -     76.313
3.    Tina Konyot USA                       -    75.425
4.    Cesar Parra USA                       -    73.963
5.    Catherine Haddad-Staller USA    -    72.963
6.    Diane Creech CAN                     -    72.738
7.    Jacqueline Brooks CAN               -    72.138
8.    Brian Hafner USA                       -    70.725
8.    Kelly Layne AUS                        -    70.725
10.  Susie Dutta USA                      -    69.738
11.  David Marcus CAN                    -    69.613
Related Links
2014 World Cup Finals - Table of Contents
Van the Man and Dr. Cesar Parra to Represent U.S.A at 2014 World Cup Finals