2014 CDI Hastings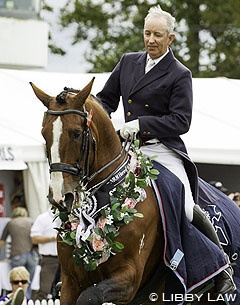 Dressage stars Bill Noble and Vanessa Way have been battling it out all season for top honours and it was no different on Sunday 23 March 2014 at the 2014 Horse of the Year Show in Hastings, New Zealand. In the end it was Waikato horseman Noble and the stunning Clydesdale cross bred stallion Airthrey Highlander who won won the very coveted Dressage Horse of the Year crown, with Way on KH Arvan reserve.
The British born Bill Noble is a former Dressage Horse of the Year winner and he has been riding the 12-year-old Airthrey Highlander for four years for owner Linda Moughan.
"Last year we were second behind Vanessa," said Noble. "We have been hammer and tongs all season, which is so good for dressage. She's a great rider and a nice girl – we just had the luck of the day."
Way won the Grand Prix with 67.58% on the first day of the big dressage competition, with Noble just five hundredths of a percent behind (67.52%).. The roles were reversed for the Grand Prix Special and Freestyle in which Bill scored winning marks of 68.176% and 71.175% while Way placed second twice with 65.868% and 70.225%.
"I am just delighted for the horse – he is so genuine and he deserves a big prize. It is wonderful for both him and the owner," Noble added.
The CID2* Intermediate B victory went to Penny Castle of Palmerston North aboard Magnus Spero. The reserve in this medium tour class was Abbie Deken from Oakura on KH Ambrose.
The Young Rider of the Year title went to Catherine West from Oakura, riding Anarocz to triple victory in all three Young Riders' classes.
Photos © Libby Law
Related Links
Scores 2014 CDI Hastings - Horse of the Year Show
Vanessa Way Wins the 2014 New Zealand Dressage Championships
Bill Noble, "Every Man's Story is Important, Unique"
Airthrey Highlander, a Clydesdale Crossbred at Grand Prix in New Zealand
Bill Noble, 2007 New Zealand Dressage Champion