Interview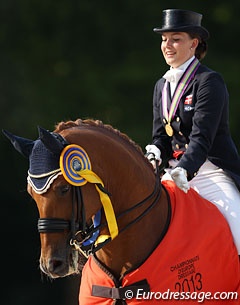 Back to back golden girl at the 2012 and 2013 European Young Riders Championships, Denmark's Cathrine Dufour is ready to take on the next level and is working hard to perfect her piaffe and passage tour in the hopes of making her Under 25 debut later this year. Eurodressage caught up with the double European Young Rider champion who is making the transition to senior level this year.
"I don't know yet if he will be ready for the Grand Prix Under 25 this year, but I really hope so," the 22-year old Dufour told Eurodressage.  "We are definitely on our way, but I don't want to present something that's not 'more than okay'!"
Winning the European young rider title in 2012 and 2013 was "quite amazing" according to Cathrine. She hopes she can continue to achieve great results with her almost Grand Prix ready partner, Atterupgaards Cassidy, an 11-year old Danish bred gelding by Caprimond x Donnerhall.
"The first time I won the title it was a dream come true, and the second year I 'really' felt the pressure," she admitted. "I'm proud that the whole team managed to stand the pressure and take the title once again."
Her partner Cassidy is her perfect cocktail for a top dressage horse. "He is both a very rideable horse, but also extremely hot; two qualities that I like a lot," she said. "For me that extra spark is one of the most important qualities for a dressage horse."
While all the canter work is ready for her debut in the Under 25 competition, Cathrine says she and Cassidy still need to be more secure in the piaffe/passage tour. They are working on this daily with long-time trainer and mentor Rune Willum.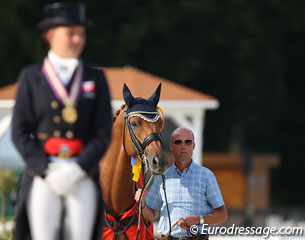 "Rune is amazing and totally indispendable. He is my rock," she confessed. "We have been working together with Cassidy on his piaffe from the ground and now that he has got the beat and rhythm, we have begun working more on the transitions to and from passage. In order to do them better we are working the piaffe very forward moving and then try to make Cassidy think forward and then up into trot or passage."
Cathrine's plan for 2014 is to be ready for the U25 as quickly as possible, and then do the debut. She will also continue training her young up-and-comers.
"With Cassidy my plan is to travel to a small competition or two, before going to a big show in Denmark in the Under 25's," she explained. "I also want to continue developing my young horse, the 5-year gelding Casabein (by Scolari x Rotspon) and my 7-year old Soendervangs Arrogant (by Don Schufro) which I've competed at M-level this season with several victories. He will be ready for Prix St Georges level this year. There is also a horse from Russia in my stable, the 7-year old Elinor who is at M-level. She's a very nice mover."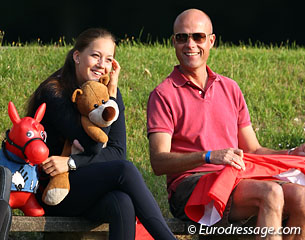 Looking for another good horse to train and compete to the top, Cathrine feels it is not at all easy to find a horse which has the right temperament and good gaits.
"I will search the whole of Europe, but I like them very hot and forward moving, so it's not that easy to find," she said.
As for the young star's future?
"I have big dreams, but it is really still a dream, and not yet a realistic goal," she revealed. "Of course every rider is aiming for the A-team and Cassidy and I are too!"
Text by Sarah Warne for Eurodressage
Photos © Astrid Appels
Related Links
Dufour and Skodborg Merrald Submitted to Team Denmark Talent Program
Dufour Does the Double and Wins Kur Gold at the 2013 European Young Riders Championships
Cathrine Dufour Makes a Clean Sweap at the 2013 CDI Addington
Triple Gold for Cathrine Dufour at 2012 European Young Riders Championships
Changes in Cathrine Dufour's Barn: Aithon Goes, Danielo Comes