2014 World Championships for Young Dressage Horses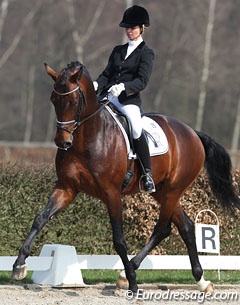 The Dutch equestrian federation and KWPN society have announced the wild card day which is an integral part of the Dutch selection process towards team selection for the 2014 World Championships for Young Dressage Horses, which take place in Verden, Germany on 6 - 10 August 2014.
The Dutch selectors invite to participate in the Dutch WCYH selection trials the 30 top scoring horses of the 2013 Pavo Cup, all winners of the regional Pavo cup selection trials, as well as the 5-year old finalists which competed at the World Championships last year. Furthermore the best five KWPN and NRPS registered horses in the KNHS Subli Championships are invited to the selection trials as well.
Van 6 tot en met 10 augustus 2014 vindt in het Duitse Verden het Wereldkampioenschap voor Jonge Dressuurpaarden (vijf- en zesjarigen) plaats. Om te bepalen welke combinaties hiervoor worden ingeschreven vindt een uitgebreid selectietraject plaats.
The KWPN and KNHS offer two wild cards to horses which did not fulfil the above criteria. On 1 May 2014 there will be a wild card day at the KWPN headquarters in Ermelo, The Netherlands, where they selectors will assesses the wild card horses.
The selection committee will only pick those two who they believe can complete the entire Dutch WCYH selection process and horses which are correct and high quality in their conformation. Riders will not have to ride the young horse test, but will have to be able to show the required level.
Photo © Astrid Appels
Related Links
USEF Accepting Applications for the 2014 "Verden Experience"
Everdale and Dancer Win 2013 Pavo Cup Finals