2014 CDI-W Gothenburg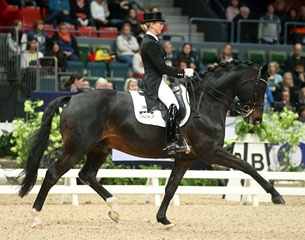 Germany's Jessica von Bredow-Werndl stole the show at Gothenburg in Sweden today when producing a superb victory in the World Cup Dressage Western European League 2013/2014 qualifier with Unee BB. 
"I didn't expect it!" said the 28-year-old whose winter season has been nothing short of spectacular.  "This is my very first World Cup season, I had never done a World Cup competition before, but we have been steadily improving and I am so proud of Unee!" she pointed out after pinning Sweden's Patrik Kittel and Toy Story into second and Denmark's Nanna Skodberg Merrald and Millibar into third.
Penultimate qualifying leg
A total of 13 horse-and-rider combinations lined out at this penultimate qualifying round for competitors in the Western European League region, and for many it has come to "make or break" time.
In a line-out of riders from seven nations, the host country fielded six horse-and-rider combinations and it was Sweden's Sofie Lexner and the veteran 18-year-old Charming Boy who set the early standard when posting a score of 74.500.  This left her out in front until The Netherlands' Hans Peter Minderhoud scored 77.400 with his relatively new ride, the 12-year-old bay stallion, Johnson, but that was immediately overtaken by Swedish star Patrik Kittel whose steady and precise performance with Toy Story featured fluid transitions, solid piaffe and rhythmic tempi changes for a mark of 79.025
This was now the score to beat, and Skodberg Merrald came close when awarded 77.950 with Millibar who has emerged as a real contender this season.  But, last to go, it was von Bredow-Werndl who pinned Kittel into runner-up spot with a beautifully executed and demanding floorplan that demonstrated flair, control, athleticism and accuracy, and more than a little daring.  The German rider's performance gave her a well-deserved mark of 81.350, with strong artistic marks awarded by the Ground Jury.
Swedish Ground Jury member Gustav Svalling commented afterwards, "Jessica's horse is absolutely fantastic and is capable of doing so much, and it is such a good looking horse as well!
Confident
Today's winner also topped yesterday's Grand Prix, and, asked how confident she was going into today's Freestyle she replied "yes of course I thought I might have a chance to win, but everybody wants to win and in the end it comes down to the battle on the day.  I just gave it my very best, Unee did great, he listened to me and wanted to do a good job" she explained.
The atmosphere in Gothenburg's Scandinavium Arena is always electric, and Kittel described it today as "amazing!" He continued, "I thought yesterday was good but today was even more special. That's the Scandinavium for you, a full house and a full crowd. They are so positive towards the riders and that's what is so unique about it.  Of course it is amazing when they all come in and they are clapping and cheering - what kind of rider doesn't want that. If you have a sensitive horse it can get tricky, but I try to do my best every time regardless. The crowd is there to support, but they aren't the ones driving me. I don't think the crowd makes my performance better or worse but it definitely contributes to making me feel good" he pointed out.
Skodborg Merrald felt she raised her game following yesterday's class in which she also finished third.  "I think I had a much better test today. My first piaffe was a little behind me but the last three were much better – I am really satisfied" she said, adding that will not compete at the next and final qualifying round in  's-Hertogenbosch (NED) because she feels she has already done enough to qualify for the Reem Acra FEI World Cup™ Dressage Final at Lyon, France in April.
Holiday planned
Today's winner won't be going either, as she has a long holiday planned for her handsome 13-year-old stallion after a long and busy winter campaign. Reflecting on the last six months, she said "this season just fell into place.  We started by finishing eighth in Odense (DEN), then we were seventh in Stuttgart (GER), sixth in Stockholm (SWE) and sixth in Amsterdam (NED) and at Neumunster (GER) we moved right up to third.  Now today we have our first win!" she explained.
Unee BB's natural poise and elegance really shone through today.  Talking about her horse, von Bredow-Wrendl said this evening "I have been riding him for two nears now and he only did his first Grand Prix after I got him.  Then he did more Grand Prix last year and we decided he was ready.  We are becoming more and more like real partners and that's what makes it so good to ride him now.  He has more power so that's make it easier for him to find his self-carriage.  We work together as a team" she pointed out.
Coming from a family background steeped in the sporting tradition she clearly understands the benefit and necessity of training and dedication to make it to the top. "I train every day with my brother, Benjamin, and when I am at shows our coach, Jonny Hilberath, is with me.  He came here to Gothenburg - we have been working together for the last three years" she explained. 
Challenge
Asked if her rapid improvement might present a challenge to defending champion , and fellow German, Helen Langehanenberg, von Bredow-Wrendl laughed and said - "No, there is not really much chance of that! But Helen is a great friend of mine and she has texted me already to congratulate me on my win!" 
As the qualifying leagues draw to a close the pressure is reaching boiling point. The top end of Western European League leaderboard reads like a "who's who" of the sport right now with von Bredow-Werndl moving into third place behind fellow-German Isabell Werth in second and Sweden's Tinne Vilhelmson-Silfven at the head of affairs.  Denmark's Anna Kaskprzak lies fourth ahead of The Netherlands' Hans Peter Minderhoud in fifth and Denmark's Nanna Skodborg Merrald in joint-fifth place.
It is down to the wire for those attempting to make the cut to the World Cup 2014 Final, and they have one last chance at 's-Hertogenbosch (NED) in three weeks' time.
World Cup Dressage 2013/2014 Western European League - Standings after Round 7 at Gothenburg (SWE):
 
1. Tinne Vilhelmson-Silfven SWE - 74
2. Isabell Werth GER - 63
3. Jessica von Bredow-Werndl GER - 60
4. Anna Kasprzak DEN - 55
5. Hans Peter Minderhoud NED - 52
5. Nanna Skodborg Merrald DEN - 52
7. Edward Gal NED - 51
8. Fabienne Lutkemeier GER - 48
9. Marcela Krinke Susmelj SUI - 46
10. Charlotte Dujardin GBR - 40
11. Patrick van der Meer NED - 27
11. Terhi Stegars FIN - 27
13. Danielle Heijjkoop NED - 25
14. Kristian Krusenstierna SWE - 23
14. Matthias Kempkes GER - 23
Related Links
Scores 2014 CDI-W Gothenburg
Eurodressage Coverage of the 2014 World Cup Finals