2014 Palm Beach Dressage Derby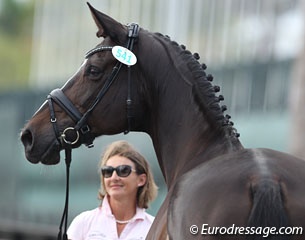 The horse inspection kicked off the 2014 Palm Beach Dressage Derby in Wellington, Florida, on Thursday 27 February 2014. For the first time in 31 years  the show is not being held in Loxahatchee. Mark Bellissimo of the Wellington Equestrian Partners acquired the Derby dates and relocated this highly esteemed Floridian dressage show to the Wellington show grounds.
For years the Derby was one of the more "special" dressage events on the U.S. show calendar and the competition was always highly celebrated with lovely dinners and parties each night.
The past decade a small competitors' party with drinks and nibbles would take place either in the trade fair or in the main building on the show grounds, so that riders could network after the inspection. It drew large crowds and addied to the overall wonderful ambiance of the show. That party would then be followed by a lovely dinner at Derby founder Janne Rumbough's farm for special invitees, while other owners and competitors would throw casual dinner parties in the stable corridors at their farm close to the show grounds for the larger crowds.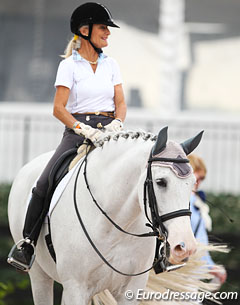 The 2014 Derby has moved to Wellington and while the brand new show grounds are a major step forward in the professionalization and globalization of this CDI, spectators, riders and grooms just scattered right after the jog with no concrete plans of what to do for the night. It felt eerily uncelebratory and very un-derby-like with no meet and mingle festivity after the inspection.
I cherish fond memories of the Derby, which I first attended in 2000 now 14 years ago. I photographed Janne Rumbough there with her Grand Prix stallion Gaucho III and today she was the first I snapped with my camera, holding her now Grand Prix horse Junior, a son of Gaucho.
Today's horse inspection at the Derby was successful for all but one horse. Kim Jesse's Charming failed the inspection, just like last week, and will be represented tomorrow morning before the Grand Prix starts at 8 AM.
Text and photos by Astrid Appels
Related Links
2014 Palm Beach Dressage Derby to Move to Wellington
Hot Dressage at 2000 Palm Beach Dressage Derby