FEI Dressage News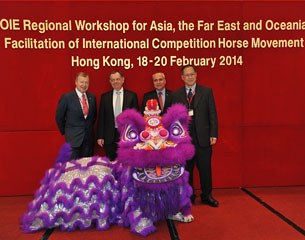 The World Organisation for Animal Health (OIE) today opened a three-day workshop for government veterinary and animal health experts from 20 nations across Asia and Oceania at the Happy Valley Racecourse (HKG), focusing on the international movement of sport horses.
The workshop, which is the first of its kind to be held in Asia, is co-organised by the FEI, the International Federation of Horseracing Authorities (IFHA), the Agriculture, Fisheries and Conservation Department (AFCD) of the Hong Kong Government and the Hong Kong Jockey Club (HKJC).
Sessions at the workshop will focus on the extensive global growth of the sport horse industry over the last decade, which has resulted in far-reaching socio-economic benefits for national economies and the horse sport industry, and has significantly strengthened the progression of equestrian athletes competing on the world stage. The sport still faces serious challenges due to inconsistent approaches to the application of health regulations and quarantine on competition horses, leading to excessive and irregular health requirements for temporary importation.
The OIE, FEI and IFHA have been collaborating to develop the high health, high performance horse (HHP) concept, based on existing OIE Standards. The advantages of this solution to meeting global requirements for horse importation will be presented to government experts from Australia, Bangladesh, Bhutan, China, Chinese Taipei, Hong Kong, Indonesia, Japan, Malaysia, Mongolia, Myanmar, New Caledonia, New Zealand, Philippines, Singapore, South Africa, Sri Lanka, Thailand, Korea and Vietnam.
The HHP concept will be presented within the new OIE Terrestrial Animal Health Code Chapter during the 2014 OIE General Session on 25-30 May in Paris for a vote by all 178 Member Countries.
Group effort
"The OIE recognises the value of the equine industry, not only because of the increased number of equestrian events worldwide, but also in terms of creating employment," said Dr Bernard Vallat, Director General of the OIE.
"However, we recognise that much of the growth in the horse industry is taking place in the traditional horse sport regions of the world - Europe, North America, Canada and Australia. So facilitation of international horse movement would also allow for emerging countries and regions to tap into the economic potential associated with an increase in numbers of equestrian events, be it FEI sport or horse racing. The concept of identifying a sub population of high health, high performance horses, in line with the OIE Standards and Principles, is designed to address the perceived issues in terms of global movement of horses."
"Some of the world's most valuable and supervised horses are now competing for the biggest prizes on the planet here in Asia", explained FEI President HRH Princess Haya by video message. "Recently, we saw the South East Asian Games in Myanmar; next year the Asian Games will be held in Incheon, in the Republic of Korea and in 2020, the Olympic Games will come once again to Asia and the eyes of the world will be focused on this region. But international equestrian sport cannot take place without the temporary importation of high health, high performance horses and at present the approach to moving these horses between countries in the region is extremely disharmonised and does not take into account their lower disease risk or their high level of supervision. The single objective of this week's session is to establish a better approach to the temporary importation of high performance horses, which is in line with established OIE principles and acknowledges that they present a low risk. This approach needs to be transparent, consistent, fair, efficient and safe."
Athlete development key
"The acceptance of the HHP concept in May will be a major milestone in the history of horse sport development", said Ingmar De Vos, FEI Secretary General. "The growth of horse sport around the world has already created a lot of awareness and understanding of the issues we are facing, and it is encouraging to see that this has had a major positive impact on nations on many levels, on the horse sport industry and of course on athletes who are striving to represent their country at key international events, including the Olympic and Paralympic Games."
Smooth movement
"It is vital for the growth of equestrian sport internationally that the movement of horses becomes smoother, without jeopardising the health status of horses around the world", said Winfried Engelbrecht-Bresges, CEO of the HKJC and Vice Chairman of the IFHA with special responsibility for international horse movement. "From the IFHA's perspective, we want to enable the world's best horses to participate in the world's leading events. Cross-border competition is, of course, good for the sport, but it also improves the breed, as increased global competition helps to identify the best horses, many of whom are then involved in the breeding cycle. This historic workshop over the next three days is a wonderful opportunity for continued dialogue between all of us who are striving to make progress in this area and I am grateful to everyone here for their attendance and their input."
Asian expansion
Dr Ko Wing Man, Secretary for Food and Health of the Hong Kong Government, explained: "Globally, the international transportation of competition horses has become more extensive and frequent in the course of time, driven by a steady growth in the number of events involving competition horses. Unlike places such as Europe and North America where equine sport is very well established, significant room exists for expansion in territories including Asia. Our common goal is to establish a framework for countries and regions to harmonise the approach to facilitating the movement of sport horses, including the formulation of temporary import conditions that would help minimise the risk of trans-boundary disease transmission."
Related Links
FEI and OIE Announce Action Plan for Sport Horses
Animal Health Experts Head to Panama for Sport Horse Talks