Eurodressage Market - Products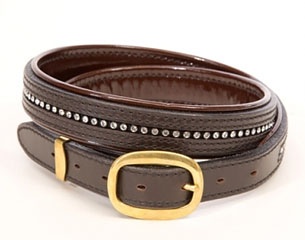 For the rider who wants to stand out in the crowd, say hello to the ultimately stylish, Albion Sporting Patent Belt Collection. Albion Sporting offers an exquisite range of luxurious leather accessories from Country Classic to City Chic that will prove to be the perfect accessories to compliment a day in the field.
This Patent Belt Collection has elegance and sophistication for that special someone looking for something a little different. These luxury belts are made using the finest hand selected materials including solid brass fittings.
Raised Patent Albion Sporting Belt – featuring entirely patent leather with patent padding and a beautiful half-rolled finish.
Patent Line and Padding – stunning leather backed with patent padding and a line of patent through the centre.
Swarovski and Patent Belt – these exclusive Swarovski belts combine luxurious leather with genuine Swarovski crystals, backed with patent padding for added luxury.
Albion Sporting offer a fully bespoke service, if you would like your belt made in a different colour leather, style or with different fittings, please contact us through the website.