Belgian Dressage News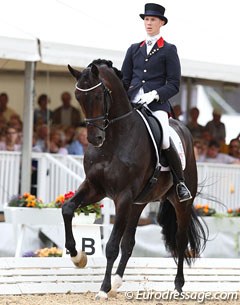 The highly successful Belgian young horse combination Tom Franckx and Bon Bravour has come to an end, at least temporarily. The Dutch warmblood licensed stallion is currently in training with Anky van Grunsven and might be competed by her in the future.
Franckx and Bon Bravour by Painted Black x Chronos) came into the spotlight in 2011 when the pair won the KWPN Stallion Competition Finals in Hertogenbosch. They became instant shooting stars and were the highest scoring Belgian duo ever at the 2011 World Young Horse Championships in Verden in August, where they finished fifth in the 5-year old finals. Two weeks later, Bon Bravour became the reserve Pavo Cup champion and six months later he also won the 2012 KWPN Stallion Competition Finals.
After reigning on the national Belgian young horse show circuit Franckx and Bon Bravour qualified again for the 2012 World Young Horse Championships in Verden, but had to withdraw at the show as the stallion injured himself in the warm up. What was initially described as a minor injury, turned out to be a severe one and the stallion was out for more than a year.
The now 8-year old Bon Bravour returned in public for the first time at the SBS stallion show in Massenhoven, Belgium, in October 2013 but by the end of the year the partnership was finished and Bon Bravour moved to Erp, The Netherlands, to continue his training under Anky van Grunsven.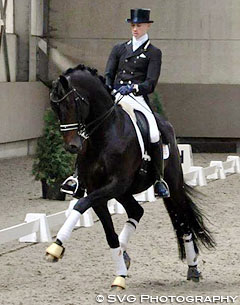 "I don't know what the future will bring for me and Bravour," Franckx told Eurodressage. "Maybe I will ride him again but I'm very busy with my own stable and with a lot of talented youngsters. In agreement with the owner and Anky we want to see how far Bravour can make it at Grand Prix level."
Franckx regrets that his career-defining partnership with the stallion has come to an end. "It's a pity that I lost my buddy but on the other hand also an honour that Anky might compete him in the future."
Franckx is an independent dressage rider who rides several young horses for IPS Horse Group in Weelde, Belgium. He also has students in training as well as a few other horses and he hopes to expand his own business in the future.
Photos © Astrid Appels - SVG Photography
Related Links
Bon Bravour, Amazing Star and Zhivago Win 2011 KWPN Stallion Competition Finals
Chippendale, Bon Bravour, and Apache Win 2011-2012 KWPN Stallion Competition
Hyrano, Bon Bravour and Don Massimo Win 2011 Belgian Young Horse Championships
Charmeur and Borencio Win 2011 Pavo Cup Finals
Woodlander Farouche Brings Magic to the Ring and Becomes 5-Year Old World Champion
Bon Bravour Withdrawn from 2012 World Young Horse Championships
Bon Bravour on Top in the 5-year old Pavo Cup Finals