2013-2014 KWPN Stallion Competition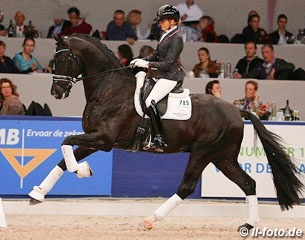 A trio of black stallions -- El Capone, Desperado and Cupido -- became the winners of the 2014 KWPN Stallion Competition of which the Finals were being held at the 2014 KWPN Stallion Licensing in 's Hertogenbosch on Friday 7 February 2014.
The winners of the KWPN Stallion Competition show circuit are decided by adding the points obtained at the qualifiers to the score achieved during the Finals.
In the L-level division for rising 5-year olds El Capone (by UB40 x OO Seven) became the overall winner with 359,5 points even though Expression (by Vivaldi x Vincent) was the high scorer in Den Bosch under Diederik van Silfhout. Expression finished on a score total of 350 points. Judges Mariette Sanders, Arie Hamoen and Jeroen Hulsman assessed the young stallions in Den Bosch. Kirsten Brouwer and Eye Catcher (by Vivaldi x Partout) finished third with a total of 332 points. British Olympian Carl Hester rode Everdale (by Lord Leatherdale x Negro) in the Finals, but he had his hands full with the stallion. The performance tester winner placed fourth, ahead of Emmelie Scholtens on Estoril (by Zhivago).
In the M-level division for rising 6-year olds Emmelie Scholtens and Desperado (by Vivaldi x Havidoff) were the undisputed winners of the Finals class as well as the overall ranking. The stallion scored nothing less than 9s for his basic gaits and reigned supreme. Scholtens and the chestnut stallion Dorado (by Krack C) finished second overall. Diederik van Silfhout and the dark bay Don Tango B (by Jazz x Contango) finished third in the overall ranking, but in the finals were bested by Gerdine Maree on Dream Boy (by Vivaldi x Ferro) as well as by Lotte Jansen on Dark President (by Wynton x Ramiro Z)
Only three horses contested the Z-level finals for rising 7-year olds with provisional ranking leader Capri Sonne not showing up for the Finals. Jose van Haaren and the black Cupido (by Daddy Cool x Jazz) excelled with his elasticity and uphill canter, but the stallion was quite tense throughout. Still he scored a total of 80 points in the Finals to win the overall ranking. Patrick van der Meer and the chestnut Chagall (by Jaz x De Niro) were the runner's up  followed by Belgian Tom Franckx on Charmingmood (by Winningmood x Contango)
Photos © LL-foto
Results - 2012-2013 KWPN Stallion Competition
L-level
1. Marieke van der Putten - El Capone - 274 - 85,5 --- 359,5
2. Diederik van Silfhout - Expression - 263 - 87 ---- 350
3. Kirsten Brouwer - Eye Catcher - 251 - 81 --- 332
4. Carl Hester - Everdale - 249 - 76,5 --- 325,5
5. Emmelie Scholtens - Estoril - 243 - 77,5 --- 320,5
6. Vai Bruntink - Ebony - 238,5 - 75,5 --- 314
7. Dinja van Liere - Etoile - 228,5 - 77,5 --- 306
8. Emmelie Scholtens - Electron - 216,5 - 80 --- 296,5
M-level
1. Emmelie Scholtens - Desperado - 370 - 92,5 --- 462,5
2. Emmelie Scholtens - Dorado - 356,5 - 89,5 ---- 446
3. Diederik van Silfhout - Don Tango B - 343 - 80,5 --- 423,5
4. Gerdine Maree - Dream Boy - 341,5 - 81,5 --- 423
5. Lotte Jansen - Dark President - 315,5 - 81 --- 396,5
Z-level
1. Jose van Haaren - Cupido - 248,5 - 80 --- 328,5
2. Patrick van der Meer - Chagall - 235 - 77,5 ---- 312,5
3. Tom Franckx - Charmingmood - 224 - 74 ---- 298
Related Links
Expression, Don Tango B, Cupido Win Fourth Leg of 2013-2014 KWPN Stallion Competition
El Capone, Desperado, Capri Sonne Win Third Leg of 2013-2014 KWPN Stallion Competition
El Capone, Desperado, Capri Sonne Win Second Leg of 2013-2014 KWPN Stallion Competition
El Capone, Desperado, Capri Sonne Win First Leg of 2013-2014 KWPN Stallion Competition
Previous Winners
Desperado, Charmeur, Bordeaux Win 2012-2013 KWPN Stallion Competition Finals
Chippendale, Bon Bravour, and Apache Win 2011-2012 KWPN Stallion Competition
Bon Bravour, Amazing Star and Zhivago Win 2011 KWPN Stallion Competition Finals
Andretti, Zhivago and Wynton Win 2010 KWPN Stallion Competition
Zizi Top, Wynton and Vivaldi Win 2009 KWPN Stallion Competition
Wynton, Johnson, Dreamcatcher Win 2008 KWPN Stallion Competition Finals
Uptown, Tolando and Florencio Win 2006 KWPN/KNHS Stallion Competition Finals
Sandreo, Scandic and Rhodium Win 2005 KWPN/KNHS Stallion Competition Finals
Scandic, Ro-Lex and Prestige VDL 2004 KWPN Stallion Competition Winners
Rousseau, Paddox and Rubels Win 2003 KNHS/KWPN Stallion Competition