KWPN Breeding News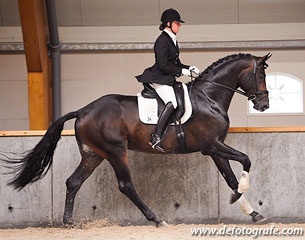 The KWPN society has decided to open up the Stallion Performance Test to 3 to 5 year olds who were not approved via the regular licensing process.
The stallion has to fulfil all the requirements of the first phase of the approval (conformation and veterinary standard) and has to have fulfilled the minimum requirement: either the first phase of the licensing or the stallion selection via the young horse competition (Pavo Cup), or the after-licensing under saddle. Four-year olds in sport have to be placed minimally L+2 and 5-year olds M+2.
The stallion licensing committee will decide if the stallion qualifies for the testing. The duration of the stallion performance testing depends on the age of the stallion like for all approved stallions.
The cost to test an "older" stallion is higher and if too many stallions are registered for the testing, the colts which completed the normal licensing process will get priority to participate in the testing.
These new criteria for the stallion performance testing which become effective as of March 2014.
Photo © Esmee van Gijtenbeek
Related Links
Franklin, Winner of the 2013 KWPN Autumn Stallion Performance Testing
Seven Stallions to Begin 2013 KWPN Autumn Stallion Performance Testing
Fifteen Dressage Colts Begin 2013 KWPN Spring Stallion Performance Testing