2014 World Equestrian Games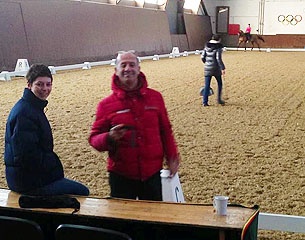 The German A-team dressage riders were invited to a two-day training seminar with team trainer Monica Theodorescu and staff members of the DOKR Dressage Selection Committee in Warendorf, Germany on 3 - 4 February 2014.
The "Championship" A-team riders attended the event devoted to training the horses, either riding full movements or parts of movements from the Grand Prix tests. Most of the training sessions were recorded on video and discussed afterwards. On Tuesday there was physiotherapy for the athletes followed by a strategy meeting duriong which the road to Caen was discussed with the riders.
During the strategy meeting Germany's road to the 2014 World Equestrian Games was discussed. The selection committee disclosed that scores from eight selected events will be taken into account for team selection. Two events are mandatory for the riders. The "observation trials" include:
all World Cup qualifiers
7 - 9 March 2014: CDI Dortmund
23 - 27 April 2014: CDI Hagen
15 - 18 May 2014: German Championships in Balve (mandatory for all team riders)
29 May - 1 June 2014: CDI Hamburg / CDI Munich
6 - 9 June 2014: CDI Wiesbaden
26 - 29 June 2014: CDI Perl-Borg (mandatory)
15 - 20 July 2014: CDIO Aachen
In case a rider missed a selection event there will be a late selection opportunity for an "after-check" either at the CDN Munster or CDI Verden, both taking place on 7 - 10 August 2014.
The closing date for the nominative entries for the WEG Dressage Team is 21 July, the definitive closing date is 14 August.
The German WEG team will go into training camp at Arlette Jasper-Kohl's Gestut Peterhof in Perl-Borg on 17 August for five days. They will travel to France on 21 August.
Photo courtesy Ulla Salzgeber
Related Links
Eurodressage Coverage of the 2014 World Equestrian Games
Gestut Peterhof to Serve as German WEG Training Camp