A Walk on the Premises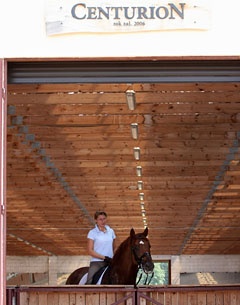 As host of four international dressage competitions in 2014, Poland is stepping into the spotlight as an active dressage country, developing itself on all fronts and show casing the sport at the CDI Radzionkow, CDI Czosnow, CDI-W Wroclaw and CDI Zakrzów. Poland is increasingly boasting new state of the art equestrian facilities where top dressage sport is conducted. Dominika Krasko-Bialek's sales and training facility Centurion centre is an outstanding example of what the country has to offer.
Poland has a long-standing tradition in horse riding. Sandwiched in between equestrian powerhouse Germany and the Russian countries which dominated dressage in the mid 20th century, Poland struggled as an equestrian nation right after World War II. Hugely affected by the war, the country saw its amount of horses decreased five times. However, Poland's strong breeding policy with powerful bloodlines survived and it is still famous for its Arabian horse breeding successes and auctions in Janow Podlaski.
Nowadays, Polish equestrianism is developed by private investors who have been financing the dynamic growth of the sport for several years. Currently, there are around 1,500 sport centres and riding schools and it is estimated that there are approximately 300,000 people riding horses at the moment; 4,000 of them are registered as active competitors.
"I clearly notice a change in the sport," said Polish FEI rider Dominika Krasko-Bialek. "More sponsors and horse owners are willing to invest in the sport and I see a huge gap in the Polish equestrian market. Plenty of owners have been purchasing good horses, mainly in Germany, and more riders are taking part in international competitions. Poland for the first time had a team at the Olympic Games in London and you notice that more competitors from abroad are deliberately choosing ot compete at the Polish CDI's. It's a very positive trend."
Polish Dressage Coming into the 21st Century
Contrary to popular but unfounded belief that Poland is stuck in the 20th century, the country boasts several state of the art equestrian facilities with all desired amenities. One of them is Centurion centre, built in 2006 and owned by Dominika Krasko-Bialek, a Grand Prix rider with 30 years of experience. Krasko-Bialek's business savviness comes from her corporate positions as an executive at multinationals such as Pepsico, Goodyear and Aviva.
"Centurion has become a strong base of operation for the development of dressage in Poland," Krasko-Bialek explained. "We are one of the greatest and most active dressage yards in Poland, with top trainers from all around the world regularly coming her to coach students. We have held over 100 clinics the last four years. We hosted seminars with coaches such as Kyra Kyrklund and Richard White, Ulla Sazgeber, Galina Zotova, Birgitt van der Eijken, Elaine Butler and Philippe Blard." Polish O-judge Wojtek Markowski stated that "each clinic brings positive input to development of dressage in Poland. The conditions at Centurion are excellent."
Krasko-Bialek tries to make a difference with her Centurion centre by providing a wide training base with six qualified trainers who complement each other and work together on a daily basis. Also the horse band at the centre is an example of modern dressage breeding. "You can see in our stable really talented horses from the best breeding lines, such as Donnerhall, Furst Heinrich, Sandro Hit, Ron William, Breitling, Rubinstein, Dimaggio, Christ or Lord Loxley," said Dominika. "We have riders of all age groups, who compete regularly both in the country and abroad."
Dominika is currently training and competing the Hanoverian licensed breeding stallion Dr. Doolittle (by Donnerhall x Lauries Crusador xx) at Grand Prix level.
Centurion Centre Making a Difference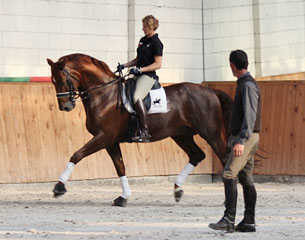 Seemingly, Centurion centre doesn't differ much from other top notch Polish equestrian facilities. A professional infrastructure with quality footing in Olympic size arenas have become a standard in Poland. However, according to Krasko-Bialek the difference with Centurion centre lies in its long-term vision.
"There is a very clear drive for long term development of dressage skills and all activities of the center are supporting this vision," she said. "We are neither interested in organizing competitions nor in amateur sport. The most significant aim is learning, raising the standard of Polish dressage and being a stepping stone to the international equestrian world."
Krasko-Bialek hopes to get the trust of the equestrian community that she can provide good quality horses and match a rider to the right, reliable horse without clients being forced to trek around Western Europe.  "Because of our low costs base here in Poland we can offer very attractive training packages for rider and horse. Quite a few horses have been trained here and now continue their international careers abroad."
The stable is located in the middle of the country near Warsaw, the capital of Poland. "The location was chosen on account of proximity to the airport and motorways. Everything was designed in a way to provide riders and horses with the maximum comfort," said Dominika.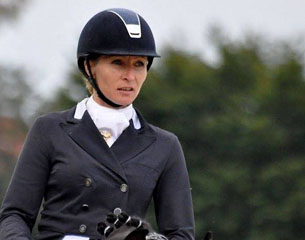 Apart from the clinics' stable, indoor walker and a round pen, the whole infrastructure is situated under one roof. The heart of the centre is the 80x30m indoor arena with stalls and tack rooms located around it. Additionally, there are outdoor arenas as well as 50 safe grass paddocks which provide plenty of space for the horses to be horses. There is on-sote accommodation for travelling trainers and visiting riders.
"I think that Centurion is a very modern and well functioning training facility. It is light and with a lot of fresh air that contributes to the horses' well being," said trainer and IDRC president Kyra Kyrklund. "There is a riding talent, and enthusiasm to learn," Luxembourg based trained Philippe Blard added. "I returned from Warsaw and thought I was dreaming! I expected a horde of Cossacks and a big amount of bad horses! I was so surprised not only to find a very good horses and riding level with real talent, but a willingness to learn that I had not felt for a long time! Centurion is a facility worth our best teams and a cavalry envy of our best riders!"
For more info contact Dominika Krasko-Bialek at dressage-cent@wp.pl or call +48 603 702 865
Related Links
FEI to Hold Refresher Seminar and Steward Promotion Course in Poland
Photo Report: Scene Shots from the 2013 CDI Zakrzow
Poland Fields Team, Ireland Closer to Individual Slot at 2012 Olympic Games