Spanish Dressage News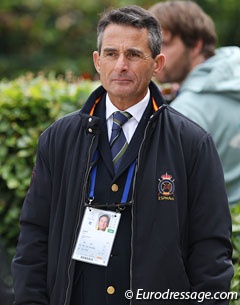 The Spanish dressage committee has announced its planning and selection process for team nomination for the 2014 World Equestrian Games in Caen, France, in August. Five Spanish based dressage competitions will serve as observation trials for team nomination.
The Spanish Dressage Committee is led by director Luis Lucio, judge advisor Francisco Guerra, ANCCE representative Jacobo Rojo, young rider rep Lauro Aguilo, trainers Nicky Barrett and Rafael Soto and veterinary official Gaspar Castelyns.
The five events marked as observation trials and selection events for short-list nomination are the CDI Barcelona (18-23 March + 25-30 March), the CDI Segovia (17-20 April), the CDI Madrid (22-25 May) and the 2014 Spanish Dressage Championships in Can Alzina (5-8 June).
The long-listed riders will be announced on 1 April, the short listed riders on 10 June 2014. The definitive team for the 2014 World Equestrian Games will be published on 23 July 2014.
The short listed riders will get the opportunity to show form at the CDI Test Event in Caen (23-26 June) and the CDIO Aachen (15 - 20 July) after which the team will be announced.
The Spanish WEG team will go into training camp at Beatriz Ferrer-Salat's Villa Equus in Barcelona from 11 - 17 August 2014.
Photo © Astrid Appels
Related Links
Luis Lucio Appointed Dressage Director of the Spanish Equestrian Federation
Lauro Aguilo Withdraws from Spanish Team for 2013 European Championships
Nicky Barrett Taking the Holistic Approach as New Spanish Junior/Young Rider Team Trainer