2014 CDN Addington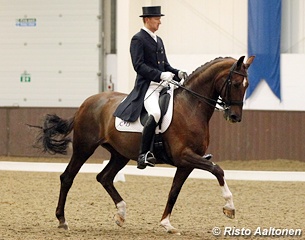 The first major British national competition of the year, Addington Manor High Profile Show, took place on 17 – 18 January 2014. The show typically attracts a high class entry and this year was no exception with several of Britain's top FEI riders from Pony level to Grand Prix gathering at this indoor show.
Saturday night's feature class, the grand prix, saw a welcome return for the partnership of Gareth Hughes and NV Stenkjers Nadonna, Jane Brewin's 16-year-old Donnerschlag mare (pictured). The pair scored a personal best of 72.46% to take the class by a four percent margin, showing they're back with a bang after a four-month break from competition.
"I was really happy with her," said Gareth. "She hasn't been out since the nationals but she was great in the arena. She was confident and produced quality work."
Gareth and Nadonna made their team debut at the European Championships in Denmark last year where the talented mare became a little overwhelmed with the atmosphere. "It was nice to travel just down the road and have a run-through without the pressure of a big competition. In eventing, horses are often given an easy run before a major event but we don't do that a lot in dressage. It's a good way to get the confidence back."
Gareth also headed the same day's intermediate I riding Kate Byrom's 11-year-old stallion Samba Hit III, a son of Sandro Hit. The pair scored 69.47%. "He's coming along well and is now getting more secure and confident."
Nadonna and Samba Hit's 2014 schedule will include some internationals – a few of which will be on home soil. "Now with Windsor [the new Windsor CDI3*] as well as Hickstead and Hartpury, there's no need to go abroad quite as much. It's not always easy on the horses to go abroad a lot," said Gareth.
Highest non-freestyle score of the three days went to Charlie Hutton on his new ride, Douglas IV. Charlie and the 12-year-old Diamond Hit gelding, who was formerly ridden by Sam Thurman-Baker, scored 74.56% to win Saturday's prix st georges. This was one better than their runner-up spot in the previous day's prix st georges which was won by Dan Greenwood and Lennox on 70.92%.
Many of the UK's top under-21 riders were at Addington for the start of their 2014 campaigns. Alexandra Hellings (14) rode Clare Williams' eight-year-old German pony stallion Der Kleine Lord to win the Pony Team Test with 72.30%. In the Junior division Erin Williams (16) rode her mother Clare's Waverley, a 17.3hh Gribaldi mare, to head the team test with 72.02%; and the Young Rider Team test was headed by Samantha Thurman-Baker and Highcliffe Apollo, a horse who has been competed extensively by younger sister, Joanna. Samantha and the 12-year-old German gelding earned 73.55% to for a plus two percent lead.
The following day, Alex Rowe and Ferrari scored 68.90% to take the Pony Individual Test, Bethany Shipley and Wanour S took the Junior Individual Test with 68.02% and Becky Edwards and Ufano II took the Young Rider Individual Test with 66.57%.
Complete scores: Friday - Saturday - Sunday
Photo © Risto Aaltonen
Related Links
British Junior Erin Williams Lands Top Spots at 2013 CDI Addington
Cathrine Dufour Makes a Clean Sweap at the 2013 CDI Addington
Nadine Krause Secures Trophies with Strong Rides at 2013 CDI Addington