2014 New Zealand Young Riders Championships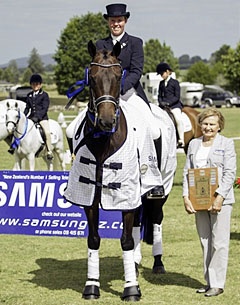 Taranaki's Catherine West won the 2014 New Zealand Young Rider Championship held at the Kihikihi Equestrian Park on 14 - 16 January 2014.  No less than 95 riders and 123 horses and ponies gathered to contest all levels from novice to advanced at the equestrian park, where the event was being hosted in Waikato for the first time. 
Host region, Dressage Waikato members in conjunction with Dressage NZ put a huge amount of work to ensure that the event will be one that riders enjoy.
Catherine West and her NZ bred Hanoverian gelding Anarocz (by (Anamour x Lavinsky xx) won the Prix St Georges with 66.343% as well as the kur to music with 66.623% to take the national title. West is one of the most hard working young riders in the sport training her horses whilst studying at Massey University,  where she is part of the Team Massey equestrian programme. West missed a few of the  pre Christmas lead up shows through exams, and then was struck down with ill health, but bounced back for this event and was unbeaten.
Una Cahill and the 18-year old New Zealand bred gelding Achenbach were the runners-up in the Prix St Georges with 62.269%, while Devon Roas and Busuto, who were last in the Prix St Georges, were able to redeem themselves to finish second in the Kur to Music with 63.816%
Photo © Libby Law
Results - 2014 New Zealand Dressage Championships
Prix St Georges
1. Catherine West - Anarocz - 66.343
2. Una Cahill - Achenbach - 62.269
3. Zoe Towler - Winterstern - 61.944
4. Natayla Weekes - Kinnordy Gym - 60.139
5. Rhiannon Scott - Oporae's Antoinette - 59.028
6. Chanel Flyger - Spielzeit - 57.083
7. Devon Raos - Busuto - 52.176
Kur to Music
1. Catherine West - Anarocz - 66.623
2. Devon Raos - Busuto - 63.816
3. Natayla Weekes - Kinnordy Gym - 59.605
4. Zoe Towler - Winterstern - 59.430
5. Chanel Flyger - Spielzeit - 58.421
6. Una Cahill - Achenbach - 57.939
7. Rhiannon Scott - Oporae's Antoinette - 56.842
Related Links
Kate Welten Retains Title at 2013 New Zealand Young Riders Championships
Kate Welten Wins 2012 New Zealand Young Riders Championships
Kate Welten Crowned 2011 New Zealand Young Riders' Champion
Georgia Worth, 2010 New Zealand Young Rider Champion
Appleton, 2009 New Zealand Young Rider Champion
Hannah Appleton wins 2007 New Zealand Young Rider Championship