American Dressage News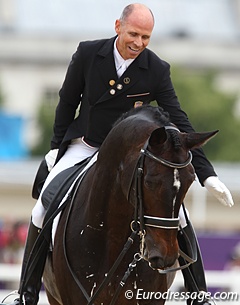 On Friday 24 January 2014, the United States Equestrian Team Foundation will be hosting a benefit event at The Pavilion at the International Polo Club in Wellington, FL. "Soirée du Cheval" will help raise funds for the USET Foundation to further support the United States Equestrian Team athletes as they prepare to compete at the 2014 World Equestrian Games in Normandy, France.
This year's event will feature fabulous live auction items, with all proceeds going to the U.S. Teams in Normandy.
 
Bruce Duchossis has donated a V.I.P Trip for Two to the Kentucky Derby. Experience all the excitement of the 2014 Kentucky Derby in style as you and a guest watch the Derby from your Skye Terrace Suite at Churchill Downs. Enjoy a view of the finish line while taking advantage of a gourmet menu and full service bar. Accommodations include two nights at The Brown Hotel, the exclusive and historic crown jewel of Louisville's luxury hotels.

Enjoy a Private Charter in the British Virgin Islands or Caribbean on "Lionshare", a 130-foot luxury motor yacht, donated by the Roffman Family. Lionshare is available for a 4-night, 5-day charter for up to 10 people in 5 staterooms, suitable for adult and family-style vacations. The yacht features a recently updated contemporary interior, vast deck spaces for sunning, inside and outside dining areas and a huge choice of watersports. The convivial 7-member crew includes a fully qualified masseuse, diving instructor and award-winning chef. The charter is available between February and mid-April from ports of embarkation/debarkation depending on the yacht's winter cruising itinerary.

Guests at the "Soirée du Cheval" may also bid on the Ride of a Lifetime on World Cup Champion Ravel, donated by Akiko Yamazaki. Take a 45-minute dressage "lesson" on World Cup Champion Ravel, under the instruction of Olympian Steffen Peters at Ravel's current home, Four Winds Farm in Woodside, CA. The 15-year-old KWPN gelding, owned by Four Winds Farm, was fourth individually at the 2008 Olympic Games, won the 2009 World Cup Final, the 2009 Aachen CDIO, won two Bronze medals at the 2010 World Equestrian Games and has twice been the U.S. Grand Prix Dressage Champion. Ravel is a modern day legend for the American sport!

A V.I.P Concert Experience with Country Star and Grammy Award Winner Lyle Lovett. Lovett will provide four V.I.P tickets to attend a concert of your choice in 2014, as well as attend the post-concert party reception as his guests. Do not miss the chance to spend the evening with one of the great country artists of all time.

If you have a special interest in golf, Jack Wetzel has donated passes to the Final Sunday at The Masters. These passes are perhaps the most difficult to secure in all of sports, but now is your chance to have badges for two people to attend the final Sunday at the 2014 Masters on April 13. This provides access to the entire golf course (except Members Only Club House) and private parking. The package includes a two-night stay at H & D Farm in a beautiful apartment in nearby Aiken, SC, plus breakfast each day at the exclusive and private Green Boundary Club, also in Aiken.

Focused on the 2014 World Equestrian Games in Normandy, France? The USET Foundation is offering the opportunity attend the Games in comfort and style with a first class hospitality package at Chateau La Cheneviere. Travel to France for Week I of the World Equestrian Games (August 23 - 31) to cheer on the "team" and stay with USET Foundation friends and supporters in a Deluxe room for two at the luxurious Chateau La Cheneviere. The Chateau, a member of the Small Luxury Hotels of the World Group, is located a mere 30 minutes from the main Games venue at Caen. You will also receive 2 A-level tickets to the Opening Ceremonies and your choice of Dressage, Eventing, Reining, Endurance or Para-Dressage. All breakfast and dinners will be included, along with transportation to Caen venues.

Thanks to the Rock Creek Cattle Company, the auction will feature three nights at the fabulous luxury Montana ranch. Rock Creek Cattle Company is a "members only" 30,000-acre historic Montana working cattle ranch traversed by streams and framed by mountains. It boasts one of Tom Doak's finest private golf courses as its centerpiece as well as the Rock Creek Cattlemen's Club - the beautiful, well-appointed lodge. The company's impressive landscape is situated on the northeast side of the magnificent Flint Creek Mountain Range, just outside of Deer Lodge. You will be lodged in a luxury cottage. The foursome is entitled to two rounds of golf each as part of the package and guests can enjoy all the other activities on an a la carte payment basis as "members." Activities include horseback riding, fly-fishing, paddle sports, hunting and shooting sports, whitewater rafting, ATV trail riding, biking and hiking.

Canadian Pacific (CP) and Jeannie and Hunter Harrison have donated a V.I.P Package for Four at the Spruce Meadows Masters CSIO5*, including the $1.5 million Canadian Pacific International Grand Prix. Enjoy top international competition at the Spruce Meadows Masters in style and comfort while you watch the world's best horses and riders vie for a Nations Cup victory and a share of the $1.5 million purse in the Canadian Pacific International Grand Prix. This package includes round trip airfare within North America and four tickets to a fabulous Sky Box during the Masters CSIO5* competition September 12-14, 2014. You will spend your evenings with Friday and Saturday night accommodations at the luxurious Fairmont Hotel in Calgary. In addition, you are invited to dinner on Friday night as guests of your hosts, Jeannie and Hunter Harrison, at their nearby residence. Get ready to be whisked away, wined and dined - all while watching the very best in international show jumping at The Masters!

This celebratory evening will also include awarding two of the USET Foundation's most coveted honors, the prestigious Lionel Guerrand-Hermes Trophy and the Whitney Stone Cup.  Guests will enjoy cocktails at 7:00 p.m., followed by dinner at 8:00 p.m., a live auction that will have guests enthusiastically bidding for these incredible items followed by dancing to "Soul Survivor."
Photo © Astrid Appels
Related Link
USET Foundation Hosts Soiree du Cheval to Benefit U.S. Teams at 2014 World Equestrian Games