French Dressage News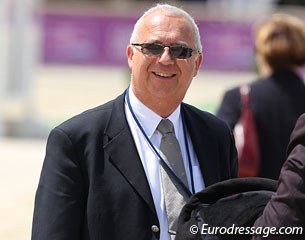 In October 2013 French O-judge Bernard Maurel has been appointed head of the French Equitation UNESCO Project and Documentation Department. He will take over the administrative responsibilities of Patrice Franchet-d'Esperey, who retired as Ecuyer of the Cadre Noir.
Maurel will run the job at the Cadre Noir after resigning from his position as Heritage Director at the secretary-general of the French Institute for Horses and Equitation (IFCE). He will be in charge of monitoring the label of cultural heritage which French equitation received from UNESCO in 2011.
Bernard Maurel has been an international judge since 1984 and received his O-status (5*) in 1989.
Professionally he was the director of the "Institut du Cheval" from 1995 - 1999 and since 2000 he has been employed by the French Ministry of Agriculture as director of the French National Stud Haras du Pin.
Maurel will be in charge of the monitoring of the UNESCO dossier. There are several projects planned to promote the French tradition of equitation through seminars, exhibitions and clinics, as UNESCO will audit them in November 2015. They are also working on digitalizing the libraries  of the National State Studs and National Equestrian School in Saumur.
"I take over more or less the job of Patrice Franchet d'Esperey," Maurel told Eurodressage, "but with more involvement on the UNESCO cultural heritage label. I can keep enough time for travel and judging as usual."
Photo © Astrid Appels
Related Links
French Equitation Inscribed on the UNESCO Intangible Heritage Representative List
Cadre Noir, French Treasure of Horsemanship
Colonel Christian Carde, Classical Dressage as Horsemanship - Part I - Part II - Part III