What's Happening in the Dressage World?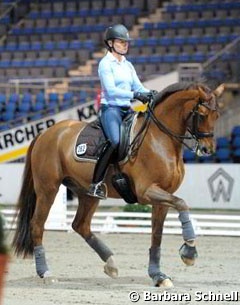 Swiss Grand Prix rider Marcela Krinke-Susmelj acquired another rising FEI horse in Denmark. Her sponsor Irina Meyer invested in the 8-year old Danish warmblood Sopran Morsoe (by Soprano x Akinos).
Sopran already has quite an extensive show career, having been competed by six different riders (Jim Rasmussen, Marie Louise Andersen, Pernille Orum, Louise Panum, Mads Jakobsen, and Sidsel Johansen). With Johansen the dark bay Sopran earned a whopping 78.553% at M-level at a regional show in Ebbeskov, Denmark, in September 2013.
U.S. based German dressage rider Kevin Kohmann got engaged to Chase Hicock on 17 December 2013. Kohmann was an assistant trainer at Dr. Cesar Parra's yard before moving to work with Oded Shimoni. The 22-year old Chase is an equestrian real estate agent for Sotheby's. The couple have been dating since June 2010.
Dr. Burckhard Bade, retired director of the Celle State Stud, celebrated his 70th birthday on 18 December 2013. Bade became assistent manager to Celle director Dr. Christian Freiherr von Stenglin in 1973 and took over the main role in 1979. He retired in 2008 when Dr. Axel Brockmann took over.
Dutch Young Riders team member Anne Meulendijks has acquired a new young star: Go Toto, a 2.5 year old Dutch warmblood stallion by Totilas x Non Stop. "He can move really well and is very loose through his body," Meulendijks told Eurodressage. "We are going to break him in and then he'll go back in the field. In half a year I want to start riding him and try to participate in the young horse competitions. He's a super sweet stallion."
Many dressage riders are taking advantage of the holiday season to go on break away from home. Anna Kasprzak is spending some quality time in Dubai, Swedish GP rider Charlotte Haid-Bondergaard is on the Maldives, Australian GP rider Lyndal Oatley flew back home to Sydney to cheer on her family's sail boat Wild Oats XI to victory in the legendary Sydney-Hobart race. German Young Rider team gold medalist Juliette Piotrowski is also soaking up some sun in the United Arab Emirates. British team rider Gareth Hughes and his wife Rebecca and friend Julia Hornig are in Thailand. KWPN Breeder of the Year 2013, Emmy de Jeu, is spending a few days in sunny Spain while the Rothenberger family is having some quality time in Sylt, Germany. Many riders also preferred the slopes and have gone skiing. British Pony team bronze medallist Erin Williams is at Kitzbühel.
Horse & Hound interview Laura Tomlinson on her superstitions. The British Olympian replied, "I try not to be superstitious because you can create your own problems, doing badly because you've told yourself you will just because of a negative superstition. However, I don't like "tempting fate" and so I always tell my family that even if my test is going really well, not to say a word until its over or it will go wrong at the end. I also have a pair of lucky pearl earrings that I always wear, and if I forget them I'm sure it doesn't look right. My routine at an international would be a snooze if possible before listening to a relevant playlist on my iPod and then I visualise my test before getting on to ride." British judge Isobel Wessels said that "many years ago I won my first championship on Friday 13th and my horse by chance had 13 plaits in his mane. Since then 13 has been my lucky number."