2013-2014 KWPN Stallion Competition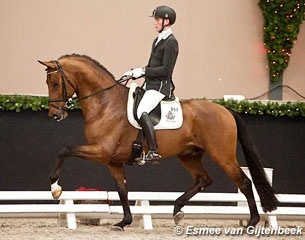 The 4-year old Expression, the 5-year old Don Tango B and the 6-year old Cupido won the fourth and final leg of the 2013-2014 KWPN Stallion Competition qualification circuit of which the Finals will be held during the 2014 KWPN Stallion Licensing in February. The fourth leg was held in Zuidbroek, The Netherlands, on 28 December 2013.
In the L-level division for 4-year olds Under 25 Grand Prix rider Diederik van Silfhout steered Expression (by Vivaldi x Vincent) to victory. Bred by Gert Willem van Norel, the bay stallion had free reign to claim first place in the absence of the winner of the other three legs El Capone. Expression scored 87 points earning 8.5 for walk and 9 for trot and canter. Judge Arie Hamoen praised the stallion: "Expression showed himself very well today. He can extend and collect very sell and has three good basic gaits. He radiates ease." Emmelie Scholtens and Estoril (by Zhivago x Gribaldi) were the runners up with 82.5 points. Benjamin Majaars and the performance test winner Everdale (by Lord Leatherdale x Negro) were third with 82 points.
Diederik van Silfhout bagged a second victory in Zuidbroek by winning the M-level division aboard Performance Test winner Don Tango B (by Contango x Jazz). The pair scored 84 points and won in a small field of three competitors. Emmelie Scholtens and Dorado (by Krack C x Rousseau) were second with 83 points, while Lotte Jansen and Dark President (by Wynton x Ramiro Z) slotted in third with  78.5 points. Judge Hamoen and co-judges Clara Dekker and Monique Peutz had a short discussion on the top two ranked horses as both got 8 for walk and 9 for trot, but "Don Tango B moves very expressively and showed good transitions with an active and clear walk. In canter he could be looser in the body but he did a test with no weaknesses. The same goes for Dorado so it was a neck-to-neck race."
The field of competitors at Z-level was more than meagre, as it had only one starter. José van Haaren rode Cupido (by Daddy Cool x Jazz) to a score of 80.5 points.  "He's a big framed stallion with a beautiful silhouette," said Hamoen. "He's still a bit green at this level, which means that he could move more uphill, but he showed good things. Cupido can extend well in canter, but the transitions need to be more confirmed. His walk is sufficiently active and he gets an 8.5 for that, just like for his trot."
Photo © Esmee van Gijtenbeek
Results - 2013 KWPN Stallion Competition - Zuidbroek
L-level
1. Diederik van Silfhout - Expression - 87 points
2. Emmelie Scholtens - Estoril - 82.5
3. Benjamin Maljaars - Everdale - 82
4. Vai Bruntink - Ebony - 77
5. Kirsten Brouwer- Eye Catcher - 76
M-level
1. Diederik van Silfhout - Don Tango B - 84 points
2. Emmelie Scholtens - Dorado - 83 points
3. Lotte Jansen - Dark President - 78.5 points
Z-level
1. José van Haaren - Cupido - 80.5 points
Related Links
El Capone, Desperado, Capri Sonne Win Third Leg of 2013-2014 KWPN Stallion Competition
El Capone, Desperado, Capri Sonne Win Second Leg of 2013-2014 KWPN Stallion Competition
El Capone, Desperado, Capri Sonne Win First Leg of 2013-2014 KWPN Stallion Competition