Rhinelander Breeding News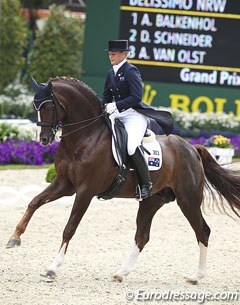 German equestrian magazine St. Georg reported that Gestut Westfalenhof has acquired the Rhinelander breeding stallion Belissimo M. The liver chestnut was offered for sale by the bank due to financial issues with Zucht and Sportpferde Schmidt, Belissimo's previous owner.
Belissimo M's fate was unsure after the bank took possession of the stallion a few months ago. Originally the 14-year old liver chestnut stallion by Beltain x Romadour II would be offered for sale via an executorial auction at trainer Hermann Gossmeier's yard, but that was cancelled and the stallion was temporarily stabled at the Landgestut Warendorf until a new owner was found.
The Sudhölter couple, managers of Westfalenhof in Steinhagen, Germany, stated, "we were always fans of the horse. Since we had the stallion station, we were looking for a son but it didn't work out. Now we have the original."
Belissimo M has 46 licensed offspring and numerous international competition horses and medal winning youngsters, including Isabell Werth's Grand Prix star Bella Rose and Bundeschampions Blickpunkt and Benicio.
Kathrin Sudhölter, who rides the station's dressage stallions, added, "it was our opinion that we couldn't let such a stallion go abroad. We're incredibly happy that he now belongs to us. He fits our philosophy that stallions have to prove themselves in sport and under saddle."
Belissimo M moved to Westfalenhof today. He will no longer be competed, "but we are keeping him fit," said Kathrin.
Photo © Astrid Appels
Source: St. Georg
Related Links
Executorial Sale of Belissimo M Cancelled
Belissimo to be Sold in Executorial Auction
Hayley Beresford and Belissimo Partnership Comes to an End