2013 Bolivarian Games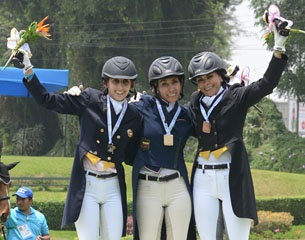 The 2013 Bolivarian Games in Tr
ujillo, Peru, were a triumph for Colombia as the Latin American country claimed individual gold and silver as well as team gold. The Bolivarian Games, which originated back in 1938 but have only been featuring dressage since 1985, are a regional multi-sport event held in honour of Simón Bolívar – known as "El Libertador," The Liberato.
Simón Bolívar was the leader of several independence movements throughout South America, collectively known as Bolívar's War and he is to this day credited with leading the fight for independence in what are now the countries of Venezuela, Colombia, Ecuador, Peru, Panama and Bolivia, he is revered as a hero in these countries and throughout much of the rest of Hispanic America. Hence, the event is open to the 6 countries liberated by Bolívar or those born from these.
Colombian team members Diana Elizabeth Rey and Radme Mahamud snatched the individual medals for Colombia and led their team to the top spot on 199.162 points, ahead of silver team Peru on 187.054 points, and Ecuador with bronze on 187.054 points. The individual bronze went to Guatemalan combo Margarita Cebeira and Quanderus.


Dressage at the Bolivarian Games runs at Junior Riders level with the team championship test counting for the Nations' Cup and the Junior Individual Test for the individual medals.
Rey's Golden Moment in Peru
Colombia's golden girl Diana Rey won the team and individual test with 68.189% and 68.542%. Rey was very happy with her results and feels that both she and her 20-year old mare Celina  gave it their all in both tests. "There were very good horses competing but thankfully we were able to do everything that we had worked for and bring the medals home," Rey told Eurodressage. "For me, the highlight of the competition was to have, once again, the opportunity to represent my country at international level. I think that these experiences are highly valuable and it's something that cannot be experienced very often."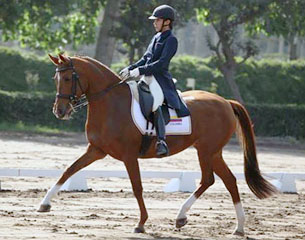 Rey's mare Celina is born and raised in Colombia by her owner Beatriz Esquerra and Diana has worked with her and the owner since the very beginning. She has been riding her alone since 2008. "Although she is not the best mover, she is always willing to work and despite her age, she continues to give everything that she has for every test. She has a great heart."
Trained by Colombian born American Cesar Parra at his stables and at clinics hosted in Colombia, Diana is also working with German Grand Prix rider Ulla Salzgeber, who is the current Colombian national coach. "I have represented Colombia in many competitions but I think that winning both team and individual medals here was something special."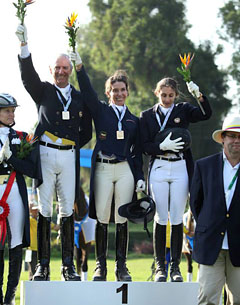 While Rey relished in taking highest honour as a rider, her principal focus is being a successful trainer. "I have had many students that have showed all the way up to FEI level with excellent results in international competitions. I love training, especially young riders and horses," she explained.
Diana is currently concentrating on her 7-year-old Dutch warmblood Toy Story (by ), which she aims to present at FEI level soon. "My goal for 2014 is to keep on working on this horse and to continue in the Olympic cycle as a rider and maybe as a trainer," said Rey.
Mahamud Finds the Silver Lining
Part of the gold medal winning Colombian team, Radme Mahamud took out the silver medal in the individual test after having only been with his horse Highlander for just over a year. The 25-year old Radme was very happy with her performance. "Highlander is now 18 years old and owned my by trainer Raul Corchuelo who also bred the horse," said Radme.
With a thoroughbred for a dam and a Belgian draft stallion for a sire, Highlander is certainly a unique dressage talent. Radme was honoured to be part of the gold medal winning team. "The highlight for me was the moment when the Colombian anthem was played and knowing that you helped to make that possible is really gratifying," she said.
Planning to ride the Prix St Georges in Colombia next year Radme hopes that her dressage career may also lead her to new and exciting destinations. "I would like one day to ride somewhere in the United States or Europe," she stated.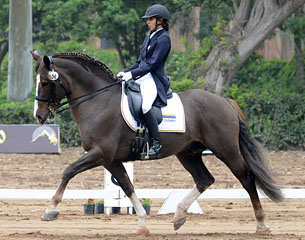 Ulla Salzgeber, team trainer for Colombia, was delighted that despite the many hurdles faced in the lead up to the games, her team was able to take home what they had hoped for, the gold. "Two of the team horses were not allowed to fly in to Lima/Peru to compete," Ulla explained. "One of the horses got permission and then suddenly, already on the pallet on the way to the airplane, they said no. At that point it was not so easy to think about the colour of a medal as we had only three riders!"
Glad that the team were able to triumph in the end, Ulla had lots of fun training what she describes as her "enthusiastic group of really hard working riders". The German A-team rider believes that they are a great team and she is looking forward to the future.
"The highlight for me was the 11th and 12th medal won at various Games by Highlander and his rider, Radme, for Colombia, making him the most successful horse in this part of the world. Thanks must go to the owner of Highlander, Raul Corchuelo, one of the team riders whose horse was not allowed to go to Lima and who stayed on to support the whole team and give 25-year old Radme the chance to compete in her first games. He was only a "spectator" but in the end a very proud horse owner."
Filling another vital team role was Thomas Baur, who served as chef d'equipe for the Colombian team. The FEI Dressage Committee member and show director knows how much work goes on behind the team gold medal, particularly as Ulla is still, even now, busy with all the challenges of transporting the horses back to Colombia and 
the United States.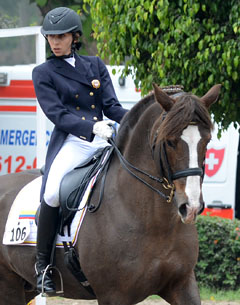 "I think our success was largely because we had a proper nomination process in place and also because Ulla Salzgeber did a tremendous job
 going to Colombia and the US several times before the Games and had been training all the riders and horses 
over the past few months," Baur explained.  "At the Games she was preparing the riders and horses in a perfect
 way and I think this was the key element for our success."
Cebeira Takes the Bronze on First Outing Abroad with Quanderus!
Guatemalan bronze medalist Margarita Cebeira couldn't have been more pleased with her 8-year old Mecklenburger Quanderus (by Quando Quando x Ex Libris x Falke) as it was their first time competing out of the country.
"Earning that medal was a very special moment," the 48-year old Margarita told Eurodressage. "It took a lot of hard work but it was all worth it."
Believing herself to be not so young anymore, Margarita tries to stay fit by running a few half marathons every year. "I think if I want my horse to be a good athlete I need to be one too," she said.
Margarita and her trainer Juan Andres Rodriguez found her equine athletic Quanderus together and according to the talented runner/rider, he is a nice, easy going horse who is very smart and who gives his best every single time!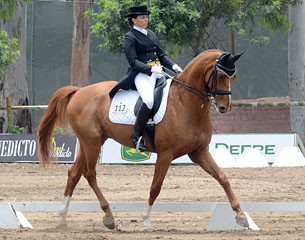 "My trainer and I made our first trip to Germany and Holland in 2011 and were not able to find a horse that would be right for me. During this trip we saw Quanderus, but at that stage he was only 6," she reminisced. " In 2012, when we returned, on the very last day of the trip we saw Quanderus again with the same owner and we saw very clearly the great improvement he had made in one year. As soon as I tried him I had no doubt in my mind that he was the one."
Based in Guatemala at Club El Cortijo Margarita also trains with American Natalie Lamping, who comes to Guatemala to give clinics. She was also the coach who worked with the national team at the Games. "I train early in the morning, usually for around 45 minutes, and the work we do depends a lot on what our next goal is, but we always work to apply in the best possible way we can, the principles of classical dressage," said Cebeira.
With the bronze medal at the Bolivarian Games as her new career highlight, Margarita hopes this is one great experience of many that will come in her future. Cebaira is also riding Melvin, the horse she took to the 2013 Central American Games in Costa Rica, where she won team silver medal.
"My goal for 2014 are the Central American and Caribbean Games in Mexico. We will start a training program in January that will include clinics and competitions at a higher level," Cebeira explained.
Alonso Weighs in on the 2013 Bolivarian Games
Another person happy to be a part of this regional multi-sport event was Mexican 5-star judge and former IDOC representative of Latin and South America, Maribel Alonso, who was not only captured by the level of dressage but also by the beauty of the chosen city.

"Lima is a lovely city and is close to the sea, has a great culture, magnificent food, colourful landscapes and great weather," said Maribel. "The dressage took place in a military facility where we were met by lovely and hospitable staff, whom despite their great enthusiasm, didn't have too much experience in organising an event of this magnitude."
However, with just 15 horses at the competition, Maribel said that the number of participants was much lower than she had hoped for, which was in most part due to the great transport challenges and red tape. "One of the Bolivian horses had to be retired as it wasn't in fit condition to participate. The team had to travel by land for 6 days and by the time of arrival the horse had lost around 200 kg. The costs of the flight was outrageously expensive, as there are not many flights taking horses from Bolivia to Peru. Sanitary conditions are also still a major issue in every country and every games such as this, which in this case added to the burden of the long distance travelling."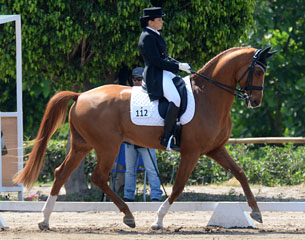 According to Maribel, the remedy lies in the American dressage nations creating a protocol to make travel of sport horses between countries easier and expeditious. "Distances are very long, even for the closest neighbouring country like Chile, although on this occasion they decided not to participate and although the OIE is working hard on this project it is a long road."
Despite these challenges, this year's games still welcomed many Bolivian cCountries including Peru, Colombia, Ecuador, Bolivia and some guests from as far off as Guatemala. "Aside from travel, the next most challenging part of the competition was the tight schedule, in most part due to the local elections in Peru on Sunday. We couldn't compete on that day and the judges were shared between dressage and eventing, as well as the staff. Due to this, the dressage ended a bit tight between important events, which prevented other competitors from coming and cheering their fellow countrymen in the dressage. I felt bad for the riders, as they had put just as much time and effort into their training and ended with a small audience."
Established in 1938, the Bolivarian Games certainly have a long history but Maribel feels that more can be done to increase the Games' success in the future. "I would certainly insist that in the future, no discipline is given a worse time slot amongst the others to ensure everyone's hard work is enjoyed and celebrated. 
Peru will be hosting the next Pan Am Games in 2019, so this was a first learning experience. All disciplines are set to be Olympic Qualifiers and most countries of the Americas will try to come. So everyone needs to work hard to get their team in the best shape possible and make these games memorable."
Open to the six countries liberated by Bolívar, the Games are held every four years with the next and 18th edition of the Games to be held in Santa Marta, Colombia.
by Sarah Warne for Eurodressage
Related Links
Scores: 2013 Bolivarian Games
Torrente to Coach Ecuadorian Team at 2013 Bolivarian Games
FEI 3* Judge Cesar Torrente Offers Insight of a Lawyer and Latin American Expertise to IDOC Candidacy
Maribel Alonso Making Waves As Judge, Official and FEI Dressage Committee Member