Eurodressage F.O.C.U.S.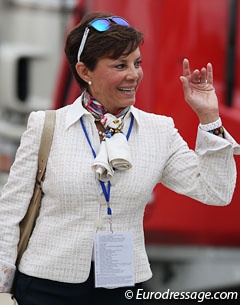 Changing the face of Latin American dressage and representing her nation at 5-star level events, Mexican O-judge Maribel Alonso recently replaced Anne Gribbons on the FEI dressage committee. After representing both Latin- and South-America on the International Dressage Officials Club (IDOC) for a number of years, Alonso is also recognised as the driving force behind the restructuring of the qualification format for the 2015 Pan American Games.
"I'm honoured by this new and great responsibility and I am looking forward to it," Maribel told Eurodressage. "Although I've already been working with the FEI for sometime, I feel that this new capacity will certainly require more involvement on my part and call for my ability to look at the bigger picture and future of the sport."
Set to carry on her task with the sole ambition of to better the sport, Maribel hopes to lift the profile of dressage worldwide. She will help to keep athletes raise the bar in ability and achievement, "for all of those who are passionate about it."
Maribel is excited about the prospect of a new challenge and feels that her experience so far will come in handy to continue her work with both the animal and the sport that has captured her heart. "I have worked in several of the Pan Am Games as TD and as chef d'équipe for a number of years, and this experience has given me a very interesting and complete experience of the wonderful appreciation there is for the sport of dressage in Latin America," she said.
Raising the Bar in Latin America Through the Pan American Games
The Mexican native has faced many challenges during the fulfilment of these roles and describes the varied level of ability amongst competing countries at the Pan American Games as the main difficulty. It was not for a lack of talent. "The truth is that some countries cannot sponsor their riders to acquire comparable experience to other riders from countries with, perhaps, better opportunities, and this is a very real obstacle," she explained.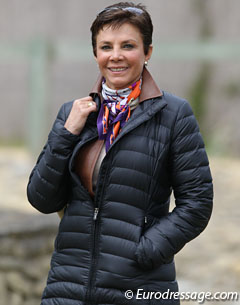 In spite of these limitations Maribel and the Latin American dressage heads felt they needed to push the level so that competitors could reach the Grand Prix. After some brainstorming, Colombian Grand Prix rider Maria Ines Garcia came up with the idea of a mixed team, a hybrid.  With the help of FEI Dressage Committee member Thomas Baur  they spent much time trying to see whether it could be done.
"Now we are hoping for the success of the second trial in Florida, 2014," said Alonso. "We felt that the qualification for the Olympics in small tour level wasn't realistic. Of course, it created hope for a while. Indeed, some countries qualified, but mainly the stronger ones. For instance, the Colombian experience in Guadalajara made us realise we needed to move on - after they won the bronze and yet they failed to achieve the GP qualification, after they struggled to get there in a record time."
From Ring Side to High Up on the Ladder
In addition to her Pan Am efforts, Maribel also enjoyed her time on the ground at the London Olympics. While ring side at the Games, Maribel is excited about her new position from on high.
"Working as a technical delegate at the World Equestrian Games in France will certainly be a challenge and being a TD is a demanding job," she said. "In London I was a ground jury member, which of course was an unbelievable experience and great fun, but being a TD is mostly backstage work and is about making sure that everything works the way it should!"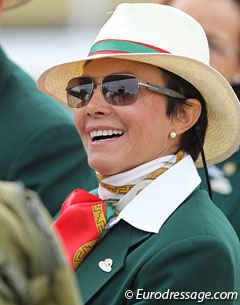 Still an active IDOC board member as Latin-American chapter representative, Maribel is also involved in a series of projects that she will reveal in due course, but as for right now she focuses mainly on judging.
"There is judging and travelling around the world, as well  as a few personal projects, and I would really quite like to spend more time with my family going on some adventures," she admitted. "Finding the balance between my career, my family, my friends and my own personal well-being and life is certainly the most challenging part about my dressage career."
Alonso described the love for horses as the fuel to her life. "I love horses, I'm not sure why, it wasn't really a thing my family did.  I fell in love with horses and then I fell in love with dressage, and I cannot now in any way conceive my life without them. I believe in having to fight for your dreams. So it is pretty amazing but hard work gives results."
Text by Sarah Warne for Eurodressage
Photos © Astrid Appels
Related Links
Maribel Alonso Appointed on FEI Dressage Committee
Ground Jury for 2014 World Equestrian Games Appointed
Maribel Alonso at the Place to B
Maribel Alonso, Carrying the Nation of Mexico All the Way to London