FEI Dressage News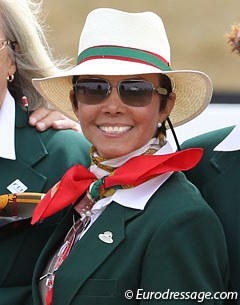 Mexican 5* judge Maribel Alonso has been appointed on the FEI Dressage Committee, replacing outgoing member Anne Gribbons, a Swedish born American O-judge.  The FEI Bureau approved Alonso's appointment this morning at the 2013 FEI General Assembly in Montreux, Switzerland.
The Mexico City based Maribel Alonso de Quinzaños is the Latin- and South-America representative on the International Dressage Officials Club (IDOC) and has been a long-time, highly respected dressage judge. Together with FEI Dressage Committee member Thomas Bauer, Alonso is the driving force behind the restructuring of the qualification format for the 2015 Pan American Games
Most recently, Alonso was a member of the ground jury at the 2012 Olympic Games in London and she will be Technical Delegate at the 2014 World Equestrian Games in Caen, France.
Maribel will be replacing Anne Gribbons, who was Technical Advisor of the American Dressage team from 2009 til 20120. She was one of six members of the first FEI Dressage Committee since the Dressage Task Force (est. November 2008) reshaped the format of the FEI Dressage Committee.
The FEI Dressage Committee further includes Frank Kemperman as chair, Thomas Baur as vice chair, David Hunt, Hans-Christian Matthiesen, and Kyra Kyrklund.
Kemperman's re-election as chair of the FEI Dressage Committee will also be voted on in Montreux, as all technical committee chairs will be up for (re)election by the General Assembly on Thursday 7 November 2013.
Photo © Astrid Appels
Related Links
Maribel Alonso, Carrying the Nation of Mexico All the Way to London
Maribel Alonso at the Place to B
Judges' Seminar with Maribel Alonso at the 2011 Sunshine Tour CDI
Alonso de Quinzanos Grounded in Mexico Due to Swine Flu
Anne Gribbons and Charles de Kunffy Inducted into the USDF Hall of Fame
Anne Gribbons: "The Olympics Were Everything We Feared"
Gary Rockwell and Anne Gribbons New O-Judges
Gribbons Resigns as U.S. Dressage Team Technical Advisor
Anne Gribbons Appointed U.S. Dressage Chef d'Equipe