2013-2014 KWPN Stallion Competition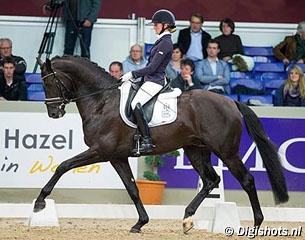 The 4-year old El Capone, the 5-year old Desperado and the 6-year old Capri Sonne JR booked repeat victories in their respective divisions at the second leg of the 2013-2014 KWPN Stallion Competition, which took place in Enschede, The Netherlands, on Tuesday 3 December 2013. The judges panel consisting of Gert van den Hoorn, Jan Enne Kloosterboer and Clara Dekker were on cloud nine and awarded high scores throughout the day.
In the L-level division for 4-year olds Marieke van der Putten and the black El Capone (by UB40 x OO Seven) produced the winning score of 94.5 points despite lacking some freshness in their presentation. Diederik van Silfhout and Expression (by Vivaldi x Vincent) became the runners-up with 91 points and were followed by Kirsten Brouwer on Eye Catcher (by Vivaldi x Partout) with 90 points.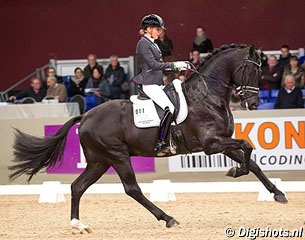 Emmelie Scholtens and the popular black stallion Desperado (by Vivaldi x Havidoff) dominated the M-level division with a total score of 93.5. Diederik van Silfhout was second again, this time aboard the bay Don Tango B (by Contango x Jazz), who earned 89.5 points but struggled in walk. Scholtens completed the top three aboard her 2013 World Young Horse Championship bronze medal winning Dorado (by Krack C x Rousseau) with 86 points.
"Desperado gave a very good performance. His walk was outstanding, his trot showed much technique in the movement and he is very rideable in it. Also in canter, the stallion showed good rideability as well as balance and self carriage," judge Van den Hoorn commented.
Dinja van Liere and her chunky black stallion Capri Sonne JR (by Rhodium x San Remo) were the undisputed winners at Z-level with a strong 90.5 score. The pair edged out Jose van Haaren and her Cupido (by Daddy Cool x Jazz), which finished on 87 points, while Patrick van der Meer and his new ride Chagall D&R (by Jazz x De Niro) were third with 79 points.
Photos © Digishots
L-level
1. Marieke van der Putten - El Capone - 94.5
2. Diederik van Silfhout - Expression - 91.0
3. Kirsten Brouwer - Eye Catcher - 90
4. Emmelie Scholtens - Estoril - 82.5
5. Benjamin Maljaars - Everdale - 82
6. Vai Bruntink - Ebony - 80
7. Dinja van Liere - Etoile DES - 76.5
8. Stefanie Wolf - Elton John - 72.5
9. Emmelie Scholtens - Electron - 70
M-level
1. Emmelie Scholtens - Deperado - 93.5
2. Diederik van Silfhout - Don Tango B - 89.5
3. Emmelie Scholtens - Dorado - 86.0
4. Gerdine Maree - Dream Boy - 83.0
5. Lotte Jansen - Dark President - 76.5
Lisanne der Nederlanden - Davino VOD - DNS
Z-level
1. Dinja van Liere - Capri Sonne JR - 90.5
2. José van Haaren - Cupido - 87
3. Patrick van der Meer - Chagall D&R - 79
4. Tom Francks - Charmingmood - 74
Mirelle van Kemenade - Cachet L - DNS
Related Link
El Capone, Desperado, Capri Sonne Win First Leg of 2013-2014 KWPN Stallion Competition