2013 CDI-W Melbourne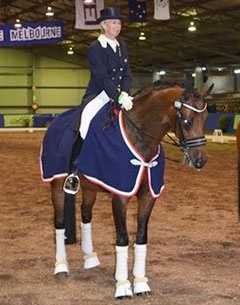 On the eve of her 59th birthday, four time Olympian Mary Hanna has earned a start at the 2014 World Cup Dressage Final after winning the Pacific League Final CDI-W Freestyle at the 2013 CDI-W Melbourne overnight. Together with her London Olympic mount Sancette (by Sandro Hit), Hanna secured the one position on offer to the Pacific League after receiving a combined score of 71.825%.
With nine combinations vying for the one place, riders were giving it their all in a bid to secure the chance to compete on the world stage.
The bar was set high early in the evening when the second combination to go, Chantal Wigan and Ferrero, were awarded 69.430%.
It wasn't long before this score was toppled and the 70 percent mark was broken, first by Rozzie Ryan and GV Bullwinkle which scored 71.450%. Husband Heath and his black stallion Regardez Moi were the next best performing combination after receiving 71.375% from the judges.
Hanna, who will celebrate her 59th birthday on Sunday, was next to go and secured her fourth start at an World Cup Final with a well-executed test. It's been a long time in-between World Cup Final appearances for the Victorian based rider who last competed at this event on her Atlanta Olympic horse Mosaic.  
Fellow Victorian Maree Tomkinson and Diamantina had the edge on the field leading into tonight's Freestyle after winning Friday's Grand Prix but a couple of unsettling moments gave them a score of 69.600% which put them in 4th position.
The 2014 World Cup Dressage Final will be held in Lyon, France from 17-21 April 2013.
Related Links
Scores: 2013 CDI-W Melbourne
Tomkinson Takes Grand Prix at 2013 Pacific League World Cup Final in Melbourne
Combinations Announced for 2013 Pacific League World Cup Final in Melbourne
Eurodressage coverage of the 2013-2014 World cup circuit