2013-2014 KWPN Stallion Competition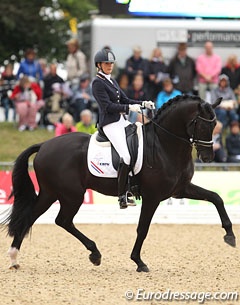 The 2013-2014 KWPN Stallion Competition show circuit kicked off on Wednesday 20 November 2013 with the first leg being held at the equestrian centre in Deurne, The Nertherlands. The 4-year old El Capone, the 5-year old Desperado and the 6-year old Capri Sonne claimed highest honour in the three divisions that were being contested.
The 4-year old division is being ridden at L-level. All three classes were judged by Toine Hoefs, Karen Nijvelt and Jan Wolfs. Marieke van der Putten steered the black El Capone (by UB 40 x OO Seven x Saluut) to first place with a whopping score of 92 points. The stallion is owned by stud farm De Dalhoeve and he edged out Kirsten Brouwer on Joop van Uytert's chestnut Eye Catcher (by Vivaldi x Partout x Dublin), who finished second with 85 points.
The 5-year old horses had to perform the M-level movements and the experienced black stallion Desperado (by Vivaldi x Havidoff x Ferro) surfaced at the top of the leader board with 91.50 points. Emmelie Scholtens also became the runner up on her second ride Dorado (by Krack x Rousseau x Donnerhall) with 88.50 points. Both horses are owned by Ad Valk in partnership with the breeders.
Dinja van Liere and the black stallion Capri Sonne (by Rhodium x San Remo x Glendale) reigned supreme in the Z-level division for 6-year olds. She scored 85.00 and referred Jose van Haaren on the black Cupido (by Daddy Cool x Jazz x Ulft) to a second place with 81.00 points.
Results - 2013 KWPN Stallion Competition - Deurne
L-level
1. Marieke van der Putten - El Capone - 92 points
2. Kirsten Brouwer - Eye Catcher - 85 pts
3. Diederik van Silfhout - Expression  - 80 pts
4. Emmelie Scholtens - Estoril - 78 pts
5. Dinja van Liere - Etoile - 76.50 pts
6. Benjamin Maljaars - Everdale - 73 pts
7. Emmelie Scholtens - Electron - 72.50
M-level
1. Emmelie Scholtens - Desperado - 91.50
2. Emmelie Scholtens - Dorado - 88.50
3. Diederik van Silfhout - Don Tango B - 86.50
4. Gerdina Maree - Dream Boy - 84.00
5. Lotte Jansen - Dark President - 72.00
6. Lisanne der Nederlanden - Davino VOD - 69.00
Z-level
1. Dinja van Liere - Capri Sonne - 85.00
2. Jose van Haaren - Cupido - 81.00
3. Mirelle van Kemenade - Cachet L - 79.50
4. Patrick van der Meer - Chagall D&R - 79.00
5. Tom Franckx - Charmingmood - 74.50
Photo © Astrid Appels
Related Links
Desperado, Charmeur, Bordeaux Win 2012-2013 KWPN Stallion Competition Finals
Chippendale, Bon Bravour, and Apache Win 2011-2012 KWPN Stallion Competition
Bon Bravour, Amazing Star and Zhivago Win 2011 KWPN Stallion Competition Finals
Andretti, Zhivago and Wynton Win 2010 KWPN Stallion Competition
Zizi Top, Wynton and Vivaldi Win 2009 KWPN Stallion Competition
Wynton, Johnson, Dreamcatcher Win 2008 KWPN Stallion Competition Finals
Uptown, Tolando and Florencio Win 2006 KWPN/KNHS Stallion Competition Finals
Sandreo, Scandic and Rhodium Win 2005 KWPN/KNHS Stallion Competition Finals
Scandic, Ro-Lex and Prestige VDL 2004 KWPN Stallion Competition Winners
Rousseau, Paddox and Rubels Win 2003 KNHS/KWPN Stallion Competition