2013 CDI-W London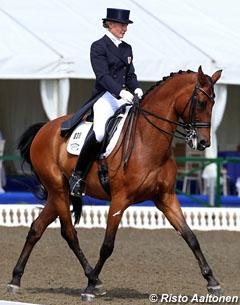 Sensational dressage duo Charlotte Dujardin and Valegro head the formidable line up of nominated entries for the World Cup Dressage Leg which takes place at Olympia, The London International Horse Show on 16 and 17 December 2013.  No less than 6 European Championship team medal winning riders are competing at the 2013 CDI-W London.


Dujardin, who has been shortlisted for the Sportswoman of the Year 2013 award, is also nominated to ride Valegro's Olympic gold medal winning team mate, Uthopia , but it is likely that she will only compete him if Valegro does not line up. Whichever of the London 2012 heroes Dujardin rides, she will face strong competition with entries from eight different nations, setting the scene for what could be one of the most competitive dressage competitions ever staged at Olympia.
The current FEI ranked world number one rider said: "Winning the FEI World Cup Dressage at Olympia in 2012 on Valegro was just incredible and the support from the home crowds is always humbling. There are very few competitions in the world that compare to the atmosphere at Olympia and it is undoubtedly one of the greatest shows there is. Fingers crossed we can repeat our success from last year."
Amongst those bidding to take on the current Grand Prix world record holder is Charlotte's trainer, Olympic and European team mate Carl Hester, who will be riding Fine Time – with who Carl won his eighth National Championship title in September 2013. Another Team GB mate of Dujardin's, Michael Eilberg, who made his British team debut at this year's European Championships, is entered with his team bronze medal partner, the British-bred mare Half Moon Delphi, with who he was well placed in fifth at Olympia last year.
The overseas raiders include a powerful Dutch team, including three of the European team silver medallists, Edward Gal, Hans Peter Minderhoud and Danielle Heijkoop . While Gal and Minderhoud are popular regulars at Olympia, rising star, 26-year-old Heijkoop will be making her Olympia debut fresh from winning the CDI 4* Grand Prix and Special at the 2013 Oldenburg, Germany earlier this month.
Multi-disciplined rider, Ingrid Klimke, the only German representative at this year's FEI World Cup Dressage at Olympia, rides one of the youngest horses in the competition, nine-year-old Dresden Mann. The highly talented Klimke, who competes in top level eventing as well as dressage, was last seen in the UK at the Land Rover Burghley Horse Trials where she came fifth.
A notable absentee from this year's line-up is Laura Tomlinson (nee Bechtolsheimer). However, Tomlinson's stable jockey, Lara Griffith makes her Olympia and World Cup debut on Andretti H. The 18-year-old gelding was formerly ridden by Tomlinson, but with Griffith on board at the National Championships, the duo performed an eye catching test to come second to Carl Hester and will certainly be one to watch at Olympia.
Tomlinson will instead be taking part in a special performance with her long-standing dressage partner Mistral Højris – more fondly known as Alf – during the evening programme on Tuesday 17 December to celebrate the superstar's retirement. 
Download the full list of nominated entries by clicking here
Photo © Risto Aaltonen
Related Links
Eurodressage Coverage of the 2013-2014 World Cup circuit
Laura Bechtolsheimer's Mistral Hojris to Be Officially Retired at 2013 CDI-W London