2013 CDI-W Stuttgart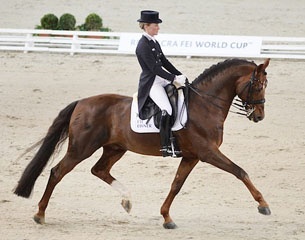 Defending champions, Germany's Helen Langehanenberg and the super-stallion Damon Hill NRW, swept to a glorious victory at the second leg of the World Cup Dressage 2013/2014 series on home turf in Stuttgart on Saturday 16 November 2013.  "It was unbelievable! I was speechless when I came out of the arena!" said the 31-year old rider who posted a personal-best Freestyle score of 89.775 at the end of a spectacular test.
The golden girls of German dressage were all in fine form this afternoon, and the four members of the side that clinched the team title at this summer's 2013 European Dressage Championships in Herning, Denmark were holding the top four places as the competition drew to a close.  But Sweden's Tinne Vilhelmson-Silfven spoiled the party just a little when, last to go with Don Auriello, she slotted into third, behind runners-up Isabell Werth and El Santo NRW, and pushing Fabienne Lutkemeier and D'Agostino down to fourth and Kristina Sprehe and Desperados FRH into fifth place in the final analysis. Today however confirmed once again that German Dressage is in great shape, and a colossal power to be reckoned with.
And that was further reinforced by the performance of yet another promising newcomer to the top level of the sport.  Jessica von Bredow-Werndl has all the credentials to suggest that she has what it takes, and the 27-year-old former Junior and Young Rider double-champion and holder of multiple German national titles steered Unee BB into seventh place today, close behind The Netherlands' Patrick van der Meer and Uzzo.
Great afternoon of sport
The Stuttgart crowd knew they were in for a great afternoon of sport, and they enjoyed every moment of it with generous applause for all-comers while not holding back on their opinion of the Ground Jury's decisions.  "It's all good for the sport" said today's Judge at C, Germany's Katrina Wuest, who joined with The Netherlands' Ghislain Fouarge (at E), Denmark's Hans Christian Matthiesen (at H), Italy's Vincenzo Truppa (at M) and Poland's Wojtek Markowski (at B) in deciding their winners.  
Von Bredow-Werndl took the lead with some lovely work from her 12-year-old by Gribaldi when seventh to go of the 14 starters. But her mark of 76.225 would be well short of the winning one at the end of the day.
Van der Meer squeezed her out when posting 76.350 before the Germans got seriously into their stride.  Going fifth from last, Kristina Sprehe and Desperados FRH went into the lead with 77.750 only to be immediately demoted by a brilliant performance from Herning team-mate and multiple champion Isabell Werth.
The 44-year old double World Cup Dressage champion was at her vintage best as she powered through a test full of determination and energy.  Werth always rides as if her life depends on it, but today's effort was particularly pleasing as both she, and Madeleine Winter-Schulze's El Santo NRW, were very definitely at ease with each other as they bounced, swung and danced to the strains of some of David Bowie's greatest hits.  It was no surprise when the crowd went wild as they finished with a flourish.  El Santo, whose ears were pricked throughout the performance, seemed to be smiling just as widely as his rider while their fans roared their approval.
A loud hush
A loud hush descended on the arena however as Langehanenberg set off with Damon Hill.  You could hear a pin drop as they executed their movements to near-perfection, and it was clear from the start that this was a test that was going somewhere big.  The symmetry between horse and rider was spell-binding.  As Langehanenberg commented afterwards she has come to the stage with this horse where they now have a mutual understanding.  "He works with me and he wants to be good.  He tries so hard to please me - it felt so good the whole way through, I mean really good, and I really felt we had no mistake, not even a slight mistake" she said afterwards.
The Ground Jury clearly felt very much the same as the scores went up showing colossal Artistic marks - Poland's Wojtek Markowski awarding 90.625 and Denmark's Hans Christian Matthiesen awarding 92.625.  Their final total score of 89.775 was a sensation. 
It wasn't an easy task for another Herning team-mate, Fabienne Lutkemeier, to withstand the wall of sound that was still reverberating around the arena when second-last to go, but she also gave a great account of herself when posting 78.400 with D'Agostino FRH. Last in however, Vilhelmson-Silfven bettered that by almost four marks to bring the competition to a close.  The Swedish rider was delighted with her mark of 82.325 which placed her third in the toughest of company and is very happy with the progress being made by the 11-year-old Don Auriello who continues to grow in confidence and ability. 
"I'm really pleased with him, he has developed and matured a lot more and now I can take the power that he shows in the warm-up into the arena with me.  He's so self-assured now, and loves the audience and the atmosphere.  That makes a big difference to the kind of performances you can produce" she pointed out.
Vilhelmson-Silfven plans to compete at the next leg of the World Cup Dressage series which takes place near her home in Stockholm in two weeks' time.  After that, Don Auriello will be enjoying some Florida sunshine.  "We will go to the US just before Christmas" the Swedish rider explained. "It will be much nicer for him than a cold winter in Stockholm!"
 
Really fantastic competition
At today's press conference, Stuttgart Event Director, Gotthilf Riexinger, pointed out "we saw a really fantastic competition from all of the riders, I am very happy. Congratulations to Helen Langehanenberg. Helen's previous best was of 88.26% in Gothenburg, and today she received 89.7%. I genuinely believed she was going to get a bit over 90, but I think the judges were correct".
Langehanenberg interrupted him, joking "it's good, it keeps me hungry!" 
She talked about what Damon Hill has been up to since helping her to take European team gold and individual silver in Herning this summer.  "He hasn't been doing much dressage work, he was out in the field and did a little bit of trotting and cantering, we really only started properly again three weeks ago so he's very happy and fresh."  The defending champion is unsure how much more her stallion will do in the near future. "The planning still has to be done for the winter months, but we will do at least one more qualifier, maybe two, I'm not sure yet" she explained. 
She continued, "I enjoyed it today, and Dami did too, the more people the better where both of us are concerned and the crowd was huge today. For the rest of the winter now we have to stay fit and healthy and keep up the work, but without doing too much."  And asked about her expectations for the defence of her title at the Reem Acra FEI World Cup™ Dressage final in Lyon, France next April, she replied simply - "I'm really looking forward to it - bring it on!"
Quotes:
Tinne Vilhelmson-Silfven (SWE) talking about her performance with Don Auriello today - "I was particularly pleased with the improvement of piaffe and passage.  We had a little hiccup in our last piaffe but in general I'm very happy.  And I'm enjoying the fact that he looks forward to going in there (the arena) now".
Isabell Werth (GER) talking during the press conference - "Today you have three riders in front of you who are smiling! I am so happy that my horse came back. He was great to ride and it was a super atmosphere overall. It is so great for us riders to perform here and it pushes us to perform at our best – that is what makes this show so special, as well as the crowd. I am just really happy and, as you say, we just keep on going.
Katrina Wuest, Judge at C - "It was a pleasure for us to judge – I can speak for my whole team. Unfortunately, sometimes you have to wake up from your dream and give marks - for us it was a dream."
Stuttgart Event Director, Gotthilf Riexinger, talking about Helen Langehanenberg's performance - "Her horse didn't make a single mistake and made it look very easy. All the spectators are so happy and they were thrilled with all the riders." 
by Louise Parkes for the FEI
Related Links
Scores 2013 CDI-W Stuttgart
Eurodressage Coverage of the 2013-2014 World Cup circuit
Nadine Husenbeth Wins 2013 Piaff Forderpreis Finals at CDI-W Stuttgart