KWPN Breeding News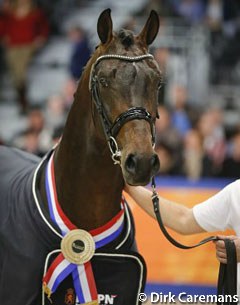 The 2013 KWPN Licensing Champion Franklin, previously known as Fierce S, became the winner of the 2013 KWPN Autumn Stallion Performance Testing which concluded on Saturday 16 November 2013 in Ermelo, The Netherlands.
Bred by Stable Gasaya in Dorsten, The Netherlands, and owned by Dane Andreas Helgstrand in partnership with Nico Witte and Leida & Tim Collins, the bay Franklin (by Ampere x Ferro x Flemmingh) scored 86,5 points which was the highest amount achieved in a group of seven colts that completed the 50-day autumn testing.
Franklin scored 7 for walk, 8.5 for trot, 9.5 for canter, 9 for suppleness, 9.5 for self carriage and balance and 9 for rideability and dressage potential. The testing committee described the stallion as "an honest and reliable, sensitive stallion with a very good attitude. He has very much willingness to work and accepts the rider well under saddle." The judges critiqued that the walk could have more body usage and in trot the horse paddles with both front legs, but the canter was a highlight because of its power, self carriage and uphill tendency.
The runner up in the autumn testing was Fellini (by Ampere x Jazz) which scored 83.5 points. The dark bay stallion is bred by A. Snikkers and owned by Nico Witte and Leida & Tim Collins. He scored 8 for walk and trot, 9 for canter, 8 for suppleness, 8 for self carriage and balance, 8 for rideability and 8.5 for dressage potential.
For Gribaldi (by Gribaldi x Michelangelo)  finished third with 85 points and was praised for his outstanding walk and canter as well as his suppleness. He was followed by Feel Good (by Contango x OO Seven) with 83 points. Firestone (by Johnson x Florencio) ended fifth with 82.5 points. Fashion Hill (by Uphill x San Remo) finished sixth amongst the 3-year old stallions with 77 points.
One 4-year old colt took part in the testing and passed the exam. Ebony (by Painted Black x Jazz) scored a total of 84 points. He is owned by Jacques Laarakkers and the Belgian based C. Van Driel and A. De Jonge. 
Photo © Dirk Caremans
Related Links
Seven Stallions to Begin 2013 KWPN Autumn Stallion Performance Testing
Flinstone B Withdrawn from 2013 KWPN Spring Stallion Performance Testing
Fairytale, Winner of the 2013 KWPN Spring Stallion Performance Testing
Fifteen Dressage Colts Begin 2013 KWPN Spring Stallion Performance Testing
Fierce S, Champion of the 2013 KWPN Stallion Licensing