FEI Dressage News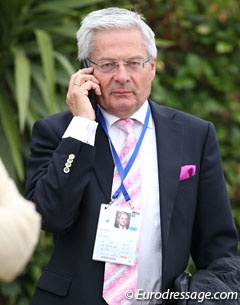 The FEI has drawn the names of the judges who will constitute the ground jury at the 2014 World Equestrian Games in Caen, France. The dressage part of the World Equestrian Games will be held from 25 - 29 August 2014. 
Seven members were drawn for the ground jury and they will represent three continents.
The judges for the 2014 World Equestrian Games are Lilo Fore (USA), Elizabeth McMullen (CAN), Isabelle Judet (FRA) as president of the ground jury, Stephen Clarke (GBR), Dietrich Plewa (GER), Susan Hoevenaars (AUS) and Francis Verbeek.
Danish judge Susanne Baarup (DEN) is the reserve and Maribel Alonso (MEX) has been appointed foreign technical delegate.
Photo © Astrid Appels
Related Links
One Year to Go to 2014 World Equestrian Games in Normandy
2014 World Equestrian Games Seeking Volunteers
Vet Services Manager Appointed for 2014 World Equestrian Games