2013 CDI-W Stuttgart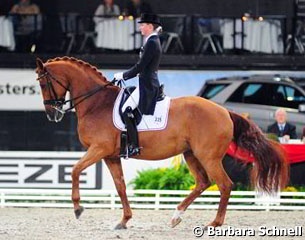 Eight riders have qualified to compete in the 2013 Piaff Forderpreis Finals - the German Under 25 Championship - held at the 2013 CDI-W Stuttgart on 13 - 17 November 2013. German young Grand Prix riders have to participate in a training seminar at the beginning of the year in order to be eligible to ride in the Piaff Forderpreis show circuit that year. Eight will now appear for the Finals in Stuttgart.
The Piaff Forderpreis show circuit includes only four competitions, spread out in Germany. The circuit kicks off at the Horses and Dreams CDI Hagen at Hof Kasselmann in Hagen, Germany, followed by stations in Balve, Verden and Donaueschingen. Riders obtain points at each qualifier and their three best scores count towards their final qualification mark.
Leader in the 2013 Piaff ranking is Sanneke Rothenberger, who achieved 57 out of 60 points. She competed Favourit and Wolke Sieben on the U25 circuit this year. Nadine Husenbeth and Florida are the runners-up. This pair also represented Germany at the U25 competition held during the 2013 European Championships in Herning, Denmark, this summer. She scored 50 points for the ranking. Annabel Frenzen and Cristobal are third with 48 points.
The Piaff Forderpreis is a well established U25 show circuit in Germany which turns out to be a clear stepping stone for the senior division. Hubertus von Zedwitz won the pilot project in 2000 and Ellen Schulten Baumer became the grand champion in the inaugural year in 2001. She won three times in total. Matthias Rath was a winner in 2006 and 2007, Kristina Sprehe won in 2009 and 2011. Other winners are Maren Frychel (2004), Sonja Bolz (2005), Marion Engelen (2008), Jenny Lang (2010) and Stella Charlott Roth (2012).
The 2013 Piaff Forderpreis finalists are: Sanneke Rothenberger, Nadine Husenbeth, Annabel Frenzen, Lisa-Maria Klössinger, Victoria Michalke, Jan Herrmann, Sarah Erlbeck, and Kirsten Sieber.
Photo © Barbara Schnell
Related Links
Combinations Allowed to Compete on 2013 Piaff Forderpreis Circuit Selected
Stella Charlott Roth Wins 2012 Piaff Forderpreis Finals
Ellen Schulten-Baumer Wins First Ever Piaff Forderpreis at 2001 CDI Stuttgart