2013 U.S. Dressage Finals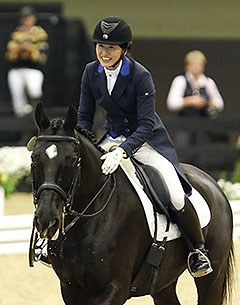 Emotions ran high as the final six champions were crowned Sunday at the inaugural 2013 U.S. Dressage Finals in Lexington, KY.  Riders who traveled to the Kentucky Horse Park from coast to coast celebrated their championship experience with memorable rides and victory laps while cheered on by friends and family. Akiko Yamzaki, Kristy Truebenbach Lund and Laura Graves collected the FEI Level titles on the last day of competition.

 
Adult Amateurs at the Prix St. Georges level were the stars of the day in the Alltech Arena, and one of the riders who traveled the farthest to compete was rewarded with a national title.  Akiko Yamazaki of Woodside, CA (Region 7) is widely known as the owner of U.S. Dressage Team horses Ravel and Legolas for Steffen Peters, but this weekend was her turn to be in the saddle.  Yamazaki became the first recipient of the Janine Westmoreland Malone Perpetual Trophy for winning the Prix St. Georges Adult Amateur Championship with a score of 67.895% earned aboard her Danish Warmblood gelding Matrix, a horse she successfully returned to competition after being out of action for two years due to injury.
"Here is a horse I thought at one point I might have to retire," said Yamazaki. "But he rose to the occasion, and I was really happy with how my ride went today." Attending the Finals with her entire family, Yamazaki was pleased with her experience. "I think this show exceeded all of my expectations, right from the get-go," she noted.  "All the information was provided in such a timely and organized manner, so I already felt well-taken care of before I even arrived.  And then once I was here, everything ran so smoothly and was just great.  Congratulations to the show organizers - I think this has exceeded everyone's expectations and I'll be returning home and spreading the word in California that we have to come back en masse."
Journeying to the Finals from the opposite corner of the country, Krista Nordgren of South Portland, ME (Region 8) earned the Reserve Championship with Schando, her 17-year-old Danish Warmblood gelding (by Schwadroneur) on a score of  66.228%   "I was so proud of my horse - I had tears in my eyes from happiness when cantering down centerline for my final salute," said Nordgren, who also had loved ones in attendance to cheer her on, including her five-year-old son.  "There's a certain magic to this place," she explained with emotion in her voice.  "The thrill of competing on this stage was a strong pull for me to come all this way, and it exceeded my wildest dreams.  I loved the fact that here, the amateur competitor has been embraced; we've never had this sort of stage for us other than our Regional Championships.  We've all been treated like true champions just for making it here to the Finals, and because of that there's a sense of pride and tremendous camaraderie."
Wrapping up the day in both the indoor Alltech Arena and outdoor rings were the Intermediate II Championship classes for adult amateur and open riders.  Wellington, FL's Kristy Truebenbach Lund (Region 3) topped the field in the adult amateur division with 61.447% aboard her  chestnut Reel Adventure (Hanoverian gelding by Rotspon out of Lanthess by Lanthan], owned by Blue Marlin Farms, Inc.).  Ironically, the pair earned their win by returning to the same Stonelea Arena where seven years ago her then five-year-old jumped out of the ring during the U.S. Young Horse Dressage Championships.  "I'm a true believer in bringing them up through the levels yourself," said Truebenbach Lund.  "I think it gives you such a true partnership, and I'm very proud that I've trained him and we've come this far together."  Less than a point behind was Region 1's Alexa Briscoe of Poolesville, MD riding her own Bavarian gelding Wildfeuer (by Welt As out of Investa by Inschallah AA, bred in the U.S. by Monika Levay) with 61.228% for the Reserve Championship.
Another Region 3 competitor, Laura Graves of Geneva, FL, rode her own Dutch Warmblood gelding Verdades to her first national title in the Intemediate II Open Championship on a strong score of 71.140% from FEI judges Gary Rockwell, Sandra Hotz, and Charlotte Bredahl over second-place finisher Heather Mason with her 10-year-old Dutch Warmblood gelding Warsteiner (by Riverman-ISF x Welona by Roemer) who scored 69.035%.  "We had a good go today, thanks to a little bit of luck and a whole lot of practice.  I'm so proud of my horse," said Graves.  "We knew we'd have tough competition here, and that's why we came.  We were really looking forward to it, and are so glad to finally have a national championship like this to look forward to."  When asked if she would return next year, Graves replied without hesitation.  "Oh yeah," she said emphatically.  "If we get invited, we'll be here."
by Jennifer Wood, edited by Eurodressage
Photo © Sue Stickle
Related Links
First National Titles Are Awarded at Inaugural 2013 U.S. Dressage Finals
Riders From Across the Country Relish Atmosphere on First Day of Inaugural 2013 U.S. Dressage Finals
Inaugural U.S. Dressage Finals Set to Begin 7 - 10 November 2013