2013 U.S. Dressage Finals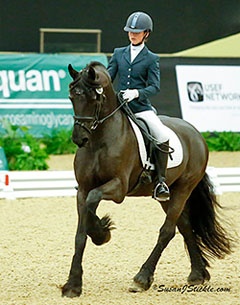 Horses and riders danced the day away in six freestyle championship divisions, with Anna Marek and Heather Mason taking the FEI level titles, during the inaugural 2013 U.S. Dressage Finals at the Kentucky Horse Park in Lexington, KY on Saturday 9 November 2013. Despite facing some of the best horses and riders in their divisions from across the country, competitors rose to the challenge in their quest for national titles while also gaining the experience of a lifetime.
Anna Marek of Williston, FL (Region 3) impressed the judges and spectators alike in the Alltech Arena as she dominated the Grand Prix Freestyle Championship on a score of 75.135%. The win with her own black Dutch Warmblood gelding Unico G (by Negro out of Kleora by Animo), which she's brought up from Training Level, was made even more meaningful after an unfortunate elimination in the previous evening's Grand Prix.
"Yesterday was heartbreaking but the rules are there for a reason," said Marek. "I love my horse and today I was just out to get the win back for him. The Freestyle is one of my favorite tests to ride, it's so much fun. And I think my horse enjoys it as much as I do." Accepting congratulations for the Reserve Grand Prix Freestyle Championship with a score of 70.667% was New Jersey's Heather Mason (qualified in Region 8) with Warsteiner, her 10-year-old Dutch Warmblood gelding (by Riverman out of Welona by Roemer).
Exhibitors shared in a final evening of celebration in the Alltech Arena while a sold-out VIP crowd enjoyed ringside dining. Concluding the evening were the Intermediate I freestyles where Heather Mason once again found the winner's circle when she rode her own eight-year-old Dutch Warmblood gelding Zar (by Iroko x Inga by Actueel, bred in the U.S. by Carol Collyer) to the Championship title on a score of 72.125%. Reserve Champion with 70.167% was yesterday's Intermediate I Open victor Emily Wagner of La Cygne, KS (qualified in Region 2) and WakeUp (American Warmblood stallion [by Wagnis out of Maiden Montreal by Macho], bred in the U.S. by Beverly McLean Tetrick/Red Mare Farm).
by Jennifer Wood, edited by Eurodressage
Photo © Sue Stickle
Related Links
First National Titles Are Awarded at Inaugural 2013 U.S. Dressage Finals
Riders From Across the Country Relish Atmosphere on First Day of Inaugural 2013 U.S. Dressage Finals
Inaugural U.S. Dressage Finals Set to Begin 7 - 10 November 2013